Rumanza Golf Course Features Platinum TE™ Paspalum as Part of its Sustainable Design
For the turfgrass selection at Pakistan's newest golf course, Platinum TE™ Paspalum provided the natural choice. Platinum TE aligned perfectly with the design goals for Rumanza Golf Course in Multan with numerous sustainable and performance characteristics.
The architect's vision for this Nick Faldo Design project included preserving the integrity of the original site. Allowing the native elements to guide the plan led to Pakistan's only pure sand golf course, an environment well-suited to Platinum TE.
"Once we knew we were working on sand and decided to design something of an inland links-style course, Nick [Faldo] was keen to have the playing surface running as hard and as fast as possible," said Andrew Haggar, lead architect at Faldo Design.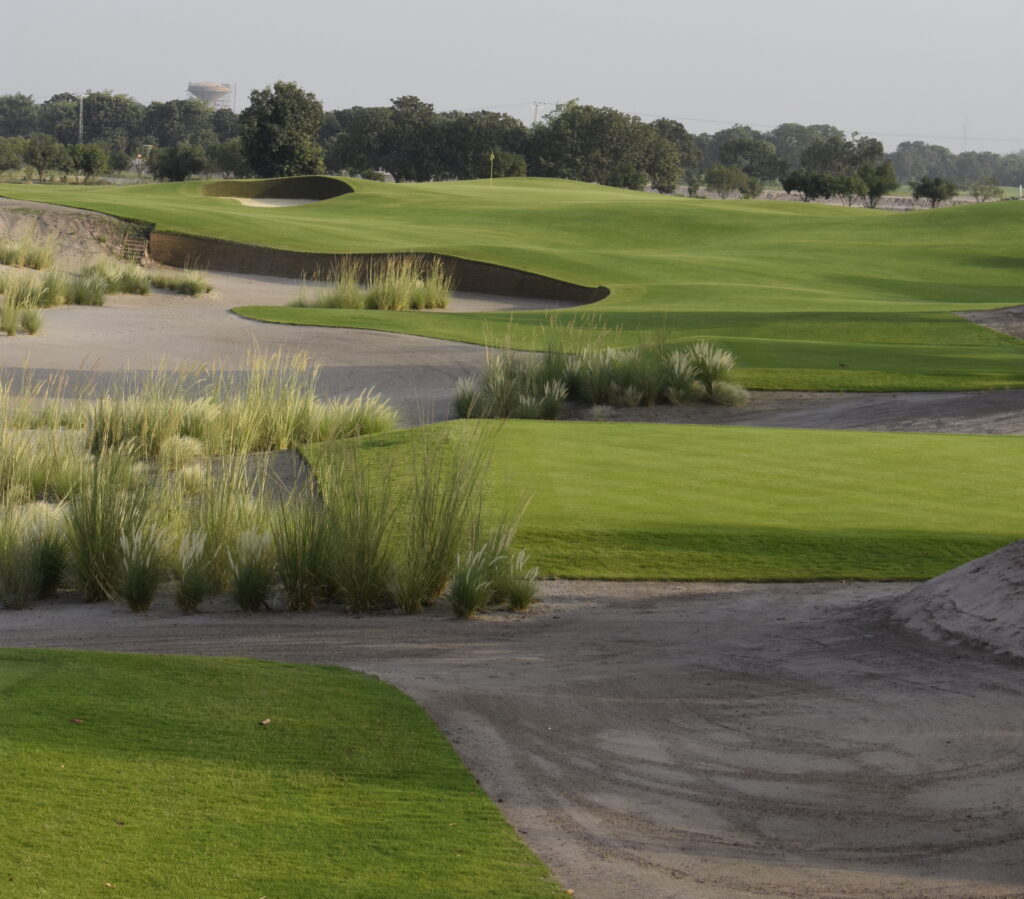 The climate of Pakistan called for a warm season grass, and when narrowing the selection further, familiarity with Platinum TE came into play.
"Sir Nick Faldo asked the team to look at Platinum paspalum for the project as he had previous experience of playing on it and felt it suited his vision for the project, which was for firm and fast playing conditions similar to a links course," said David Mathews golf course construction manager at Desert Group, the builder of Rumanza.
Specified as the course's wall-to-wall turfgrass, Platinum TE tolerates various heights of cut and is suitable for applications from tee to green. Having worked with paspalum on four previous projects, Mathews knew the grass and its capabilities well.
"[Platinum TE] also fitted the design with its eco bunkers and lots of rolls and undulations in a low height of cut turf," said Mathews.
In addition to versatility, Platinum TE has earned a favorable reputation and has been specified by leading architects worldwide for a long list of attributes. The variety offers superior salt tolerance, outstanding canopy density, excellent low light tolerance, and remarkable disease resistance.
Platinum TE's overall durability is proving beneficial at Rumanza during the harsher times of the year. Extreme heat, sandstorms, and interruptions in irrigation have not affected turf quality.
"This is our hottest season with temperatures reaching 45 to 50 degrees Celsius daily," said Sam Clayton, general manager at Rumanza. "Unfortunately, we had a major irrigation blowout that resulted in the system not fully operating for three consecutive days. Despite this lack of irrigation, the heat, and the associated very hot winds that create sandstorms, the turf is holding up extremely well with very little stress."
The rapid establishment of Platinum TE provided benefits as well. Unlike some projects underway when the pandemic necessitated shutdowns, construction of Rumanza was able to continue without significant interruption. By maximizing local personnel and materials, the supervisory team remaining on-site, and design team conferences along with acutely detailed design plans, the project remained on schedule. Turfgrass establishment cooperated as well.
"As we had good temperature, water, and irrigation system, I believe we optimized the establishment time, which for me was five months from planting to grown-in with plus 95 percent coverage," said Mathews. "This was as good as any other project I have worked on."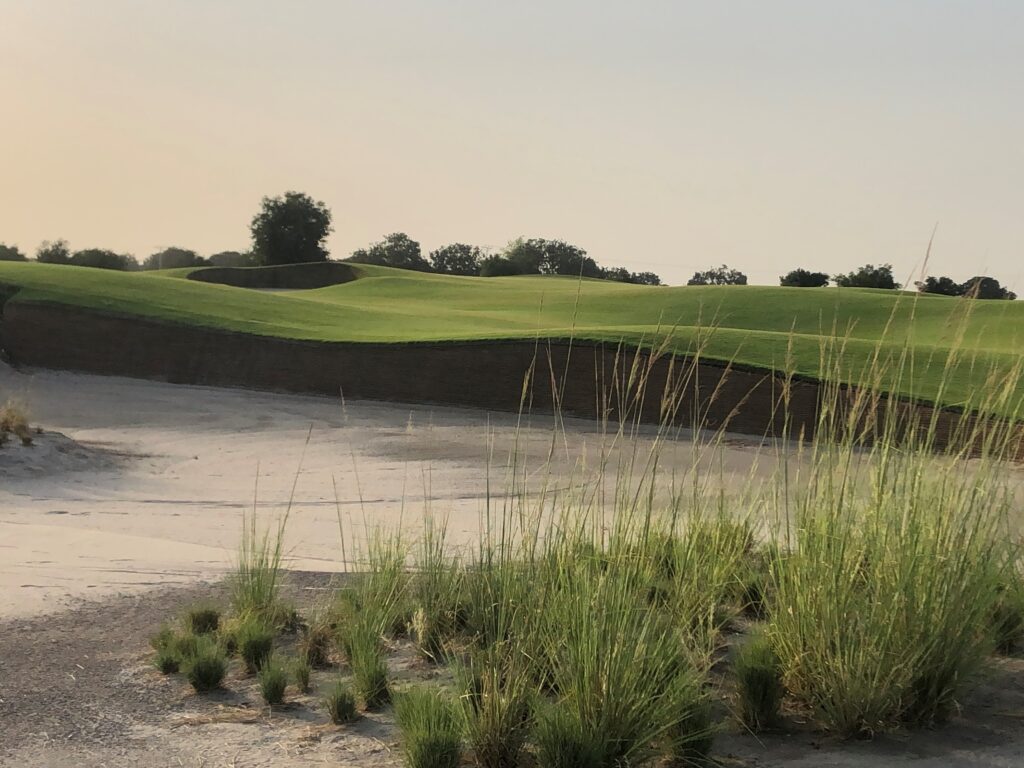 Besides meeting deadlines, rapid establishment of turfgrass also reduces the use of resources such as water and inputs that extended grow-ins can require. Details such as these contribute to more sustainable golf courses that are proving to be greater in demand. Rumanza's sustainable development, emphasizing local materials and eco-friendly practices, is part of their pursuit to be the first GEO Certified golf course in Pakistan.
"Platinum I found had less vertical growth," said Mathews. "It seemed to have more lateral growth and a dense sward. This also became apparent when we had full coverage as clipping yield was less than I expected. This also meant less mowing frequency which is obviously beneficial."
With the project nearing completion and scheduled for opening later this year, the end product demonstrates the designer's original goals.
"A strong local identity was very important for us," said Haggar. "From the retention of existing fruit trees such as mango to the use of locally made bricks for the cart paths to the retention, reconstruction, and addition of on-site dwellings made of mud and straw, we feel that we've really rooted this golf course in its native environment and created a strong sense of place."