Pure Dynasty Selected for Bangkok's Yashi Riverfield
When Golf Course Specialists Co., Ltd. took on the task of renovating Yashi Riverfield in Thailand, the sports field turfgrass of choice was Pure Dynasty® Seeded Paspalum. As part of the new Coverlawn hybrid system, Pure Dynasty met the rigid criteria and delivered championship results.
The Sports Field Project
Yashi Riverfield, on the banks of the Chao Phraya River, is a private football complex in Bangkok owned by Thai celebrity and businessman Vinij Lertratanachai. Recently in the spotlight for organizing the first showdown on Asian soil between Manchester United and Liverpool football clubs, Lertratanachai also runs the prestigious Bayern Munich Academy.
Yashi Riverfield hosts a multitude of functions, including national team events, academy events, exhibition matches with celebrities and politicians, and other community activities. The nature of the schedule required a durable pitch that looked as good as it played.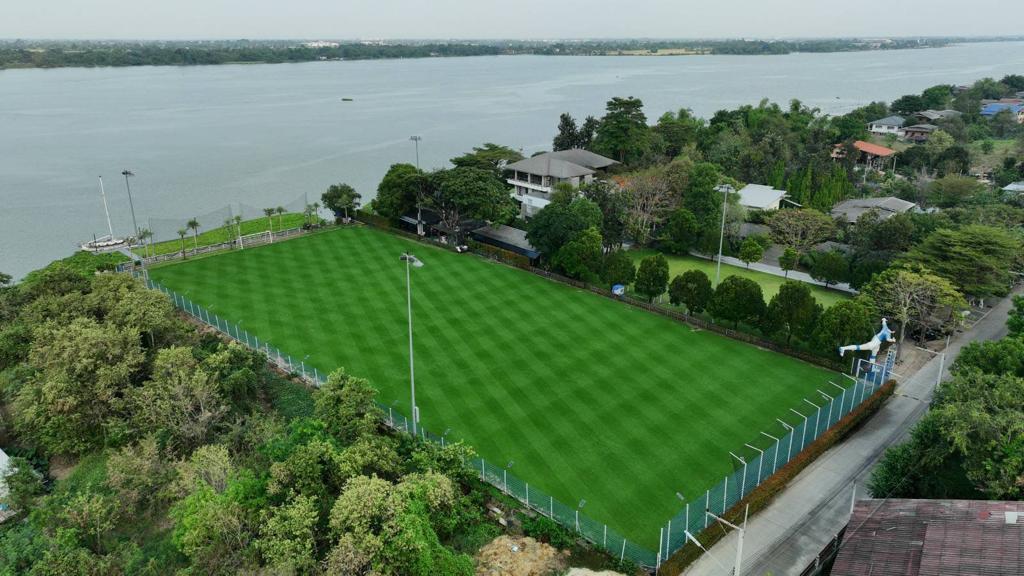 The Turfgrass for the Job
When the decision was made to convert the field from the older variety of seashore paspalum and incorporate the hybrid system, a seeded turfgrass was needed that could deliver rapid recovery, a strong playing surface, and attractive color.
Queen Valairat Phanrang, MD, with Golf Course Specialists, considered the requirements and the available seeded turfgrass options. In consultation with Kirk Buchanan, sales representative with Atlas Turf International, Queen selected Pure Dynasty. As the only seeded seashore paspalum currently on the market, Pure Dynasty is a premium blend technically advanced beyond earlier seeded or vegetative varieties. With Platinum TE Paspalum as part of its genetics, Pure Dynasty offers many of the superior characteristics of its parent, but in a convenient seeded form.
The Process
As an experienced turf manager, Queen put together an aggressive grow-in plan. Germination was quick with regular irrigation through establishment. After ten days, fertilizer was applied. Queen topdressed at the one-month mark and then again at 50 days and 65 days. The field was ready to be handed over 75 days from seeding, at which time the mowing height was 15mm.
The Results of the Thailand Sports Field Turfgrass
The Pure Dynasty met and exceeded the high expectations set for the new Yashi Riverfield.
"The outcome is great," said Queen. "Everybody loves it. After two big games on Saturday and Sunday, the playing surface is still good with very few divots."
In addition to exceptional wear tolerance and recovery, Pure Dynasty's many other advanced features come into play at Yashi.
"Pure Dynasty can mow shorter and gives us very good ball speed," said Queen. The density, recovery rate, and color are all nice."
From a sustainability perspective, fewer inputs for controlling insects and disease offer a distinct advantage.
"We have surprisingly less insects and disease [with the Pure Dynasty] compared to the older seashore paspalum.