For warm season golf courses and sports fields where the goal is beautiful turf with excellent playability year-round, a major challenge is dormant grass in winter. Lack of color, diminished density, soggy surfaces, and increased signs of wear and tear are all possible problems when warm season grasses are not in the active growth phase. Overseeding is the solution.
Winter overseeding addresses all of these problems and more. The practice of planting a cool season species directly into the warm season stand during the colder months creates a more functional turf in the winter. And when the temperatures rise, the stand transitions back to the warm season turf.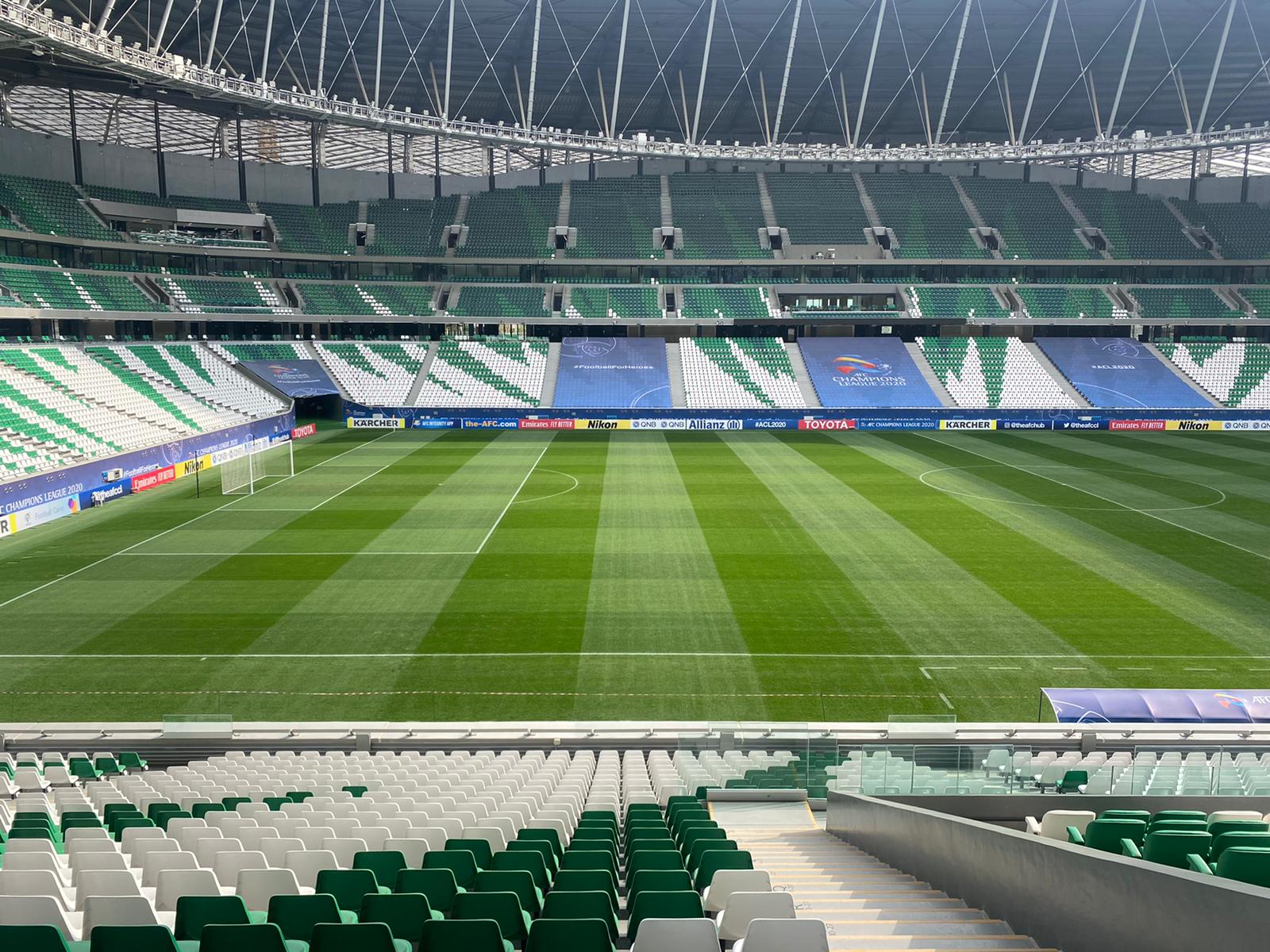 Benefits of Overseeding
Golf courses and sports fields are the primary locations for overseeding, but commercial landscapers and even homeowners are adopting the practice. Regardless of the application, those who overseed are looking for some of the same benefits:
Great winter color
Density
Wear tolerance
Playability
Protection of the surface
The Go-To Seed for Overseeding
The most commonly used species for overseeding is perennial ryegrass. Offering quick germination, ryegrass gets to work immediately. With a finer leaf blade, it meets the expectations of golf course and sports field applications. Sensitive to warmer temperatures, ryegrass serves its temporary purpose in the winter and goes away when the mercury rises.
The plant breeders at Pure-Seed Testing have a long history of developing improved ryegrass varieties. The product line includes more than a dozen individual products, each offering specific advantages. Single varieties may address all of the needs of a project, or specialized blends can be created.
"We develop perennial ryegrasses with improved tolerance to disease, traffic, drought, salt, shade, and temperature extremes," said Dr. Melodee Fraser, Director of Research at Pure-Seed Testing East. "We conduct winter overseeding trials where we look for specific traits like improved establishment speed, winter turf quality, color, density, disease resistance, and smooth spring transition back to bermudagrass."
Read more about the breeding of perennial ryegrasses.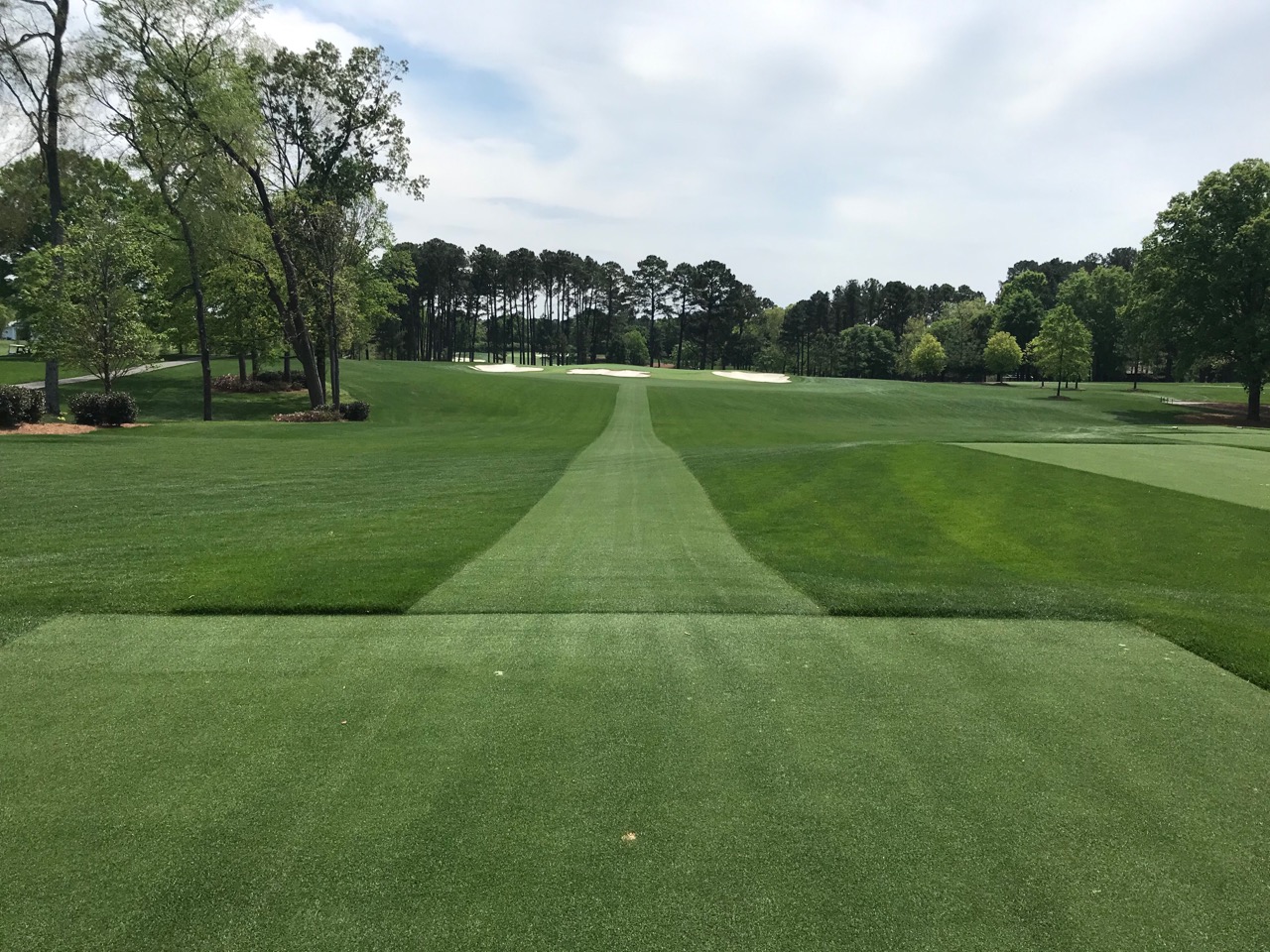 Mixing It Up for Improved Performance
Blends of ryegrasses serve to combine the benefits of different varieties, while mixtures incorporate other species.
"We've seen great success in the sports turf industry with our brand Pure Sport RST," said Fraser. "This proprietary mix typically consists of 90 percent perennial ryegrass and 10 percent Kentucky bluegrass. The product achieves better overall performance by improving density, wear tolerance, and recovery. The Kentucky bluegrass component has been bred to establish rapidly at a rate similar to the ryegrass."
The specific composition of Pure Sport™ perennial ryegrass blend is unique for each user based on their particular growing conditions and individual goals.
Overseeding at Quail Hollow
Quail Hollow Club in Charlotte, North Carolina, has been using ryegrass from Pure Seed for their overseeding since 2018. This top-rated golf course hosts a regular stop on the PGA Tour each year as the site of the Wells Fargo Championship. In addition, Quail Hollow will be a two-time host of the PGA Championship – first in 2017 and again for the upcoming 2025 event. Closer on the Quail Hollow calendar is the 2022 President's Cup. With championship expectations of this level, turf quality and playability need to be at their best.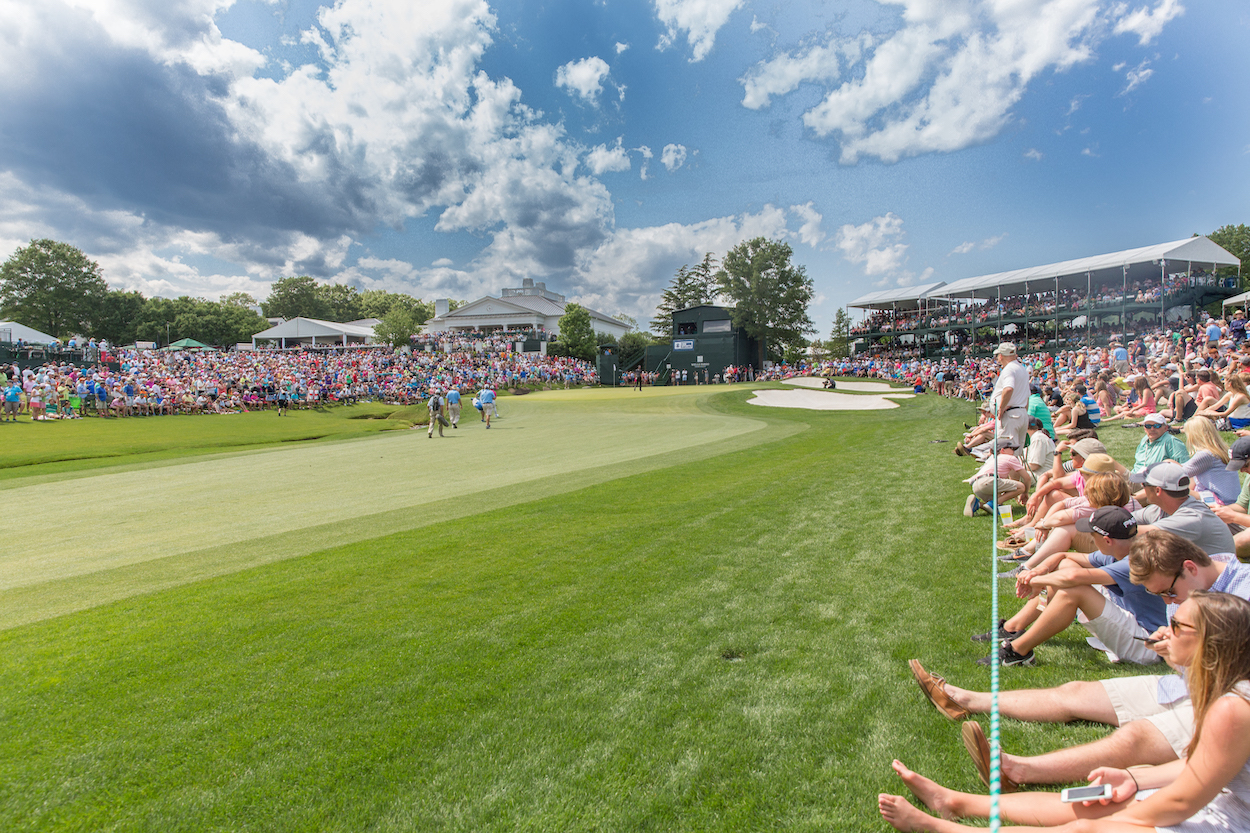 Quail Hollow Golf Course Superintendent Keith Wood meets the challenge with the help of Pure Seed overseeding products.
"We've used Pure Sport perennial ryegrass blend for the past three years," said Wood. "Each year, the components of the blend change based on what Pure Seed deems to be best for our area. Melodee recommends the varieties…what's going to have the fastest establishment, best color, quick green-up in the spring, and good transition in the summer."
Conditions in North Carolina allow for year-round play, but the bermudagrass does pose challenges during dormancy. With members playing through the winter months and the Wells Fargo Championship taking place each May before the bermudagrass has fully returned to an active growth stage, overseeding mitigates these challenges.
"During the winter months when the bermudagrass is dormant in the Carolinas, it can get wet," said Wood. "And when dormant bermudagrass is wet, playability stinks. Having the ryegrass out there, you have a plant utilizing the moisture in the soil. This provides for better playing conditions and firmer surfaces in the wintertime."
Overseeding by Aspire Sports Turf in Qatar
Even in locations where temperatures stay well above frost conditions, warm season grasses go through annual growth cycles and benefit from overseeding. Aspire Sports Turf, based in Doha, Qatar, is responsible for the turf management of every stadium and practice facility for the 2022 FIFA World Cup Qatar, totaling more than 40 athletic fields.
According to Colin Lyons, Senior Sports Field Construction Consultant at Aspire Sports Turf, the three most crucial elements of a turf surface are safety, playability, and aesthetics. To maintain this caliber of turf for Aspire and the World Cup, Lyons incorporates overseeding.
"Due to the FIFA World Cup 2022 tournament being played during Qatar's winter months, over-sowing with cool season grass or a mixture of cool and warm season grass is required to produce an optimal playing surface," said Lyons. "This provides the quality and playability of surface expected by today's elite players."
In preparation for the World Cup, Lyons and the Aspire team conducted extensive research with overseeding products to monitor turf quality under heavy usage. Lyons referenced the data collected on turf performance and recovery against FIFA's and Aspire's local pitch performance target ranges. The findings led to selecting Pure Seed varieties due to characteristics such as "exceptional grass cover, sufficient surface hardness (gravities), excellent surface traction, superior presentation, and vibrant color."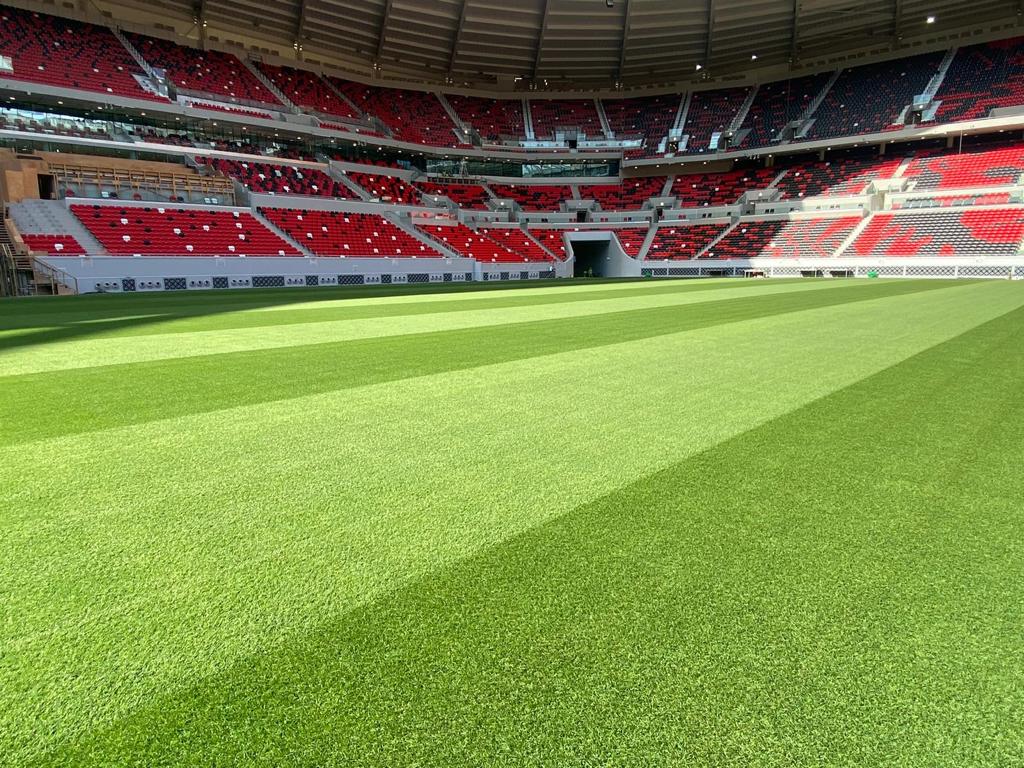 When Is the Right Time to Overseed?
Turf professionals generally time overseeding around temperatures and the usage requirements of their facilities. Wood says that each year is slightly different at Quail Hollow, but the standard target is mid-October.
"We want to get the seed down, get it established, and have it mature pretty quickly so that when the frost sets in, we're not dealing with a completely juvenile plant that's going to get frostbite and die. For this reason, the early maturity of the Pure Sport is very important to us."
Typically, germination and establishment take 10-12 days from seeding to a ready stand of ryegrass. Some golf courses suspend play while the ryegrass establishes to maximize consistent coverage and to minimize seed transfer into unwanted areas. Others, such as Quail Hollow, overseed and allow play to continue with some restrictions.
"We play golf," Wood said. "We limit carts to the path while the seed is being established, but once we get the first cut on the ryegrass, we let the carts back out."
With sports fields, game schedules and event dates can drive the timing decision as much as the weather. In Qatar, Lyons would normally target mid-November to begin overseeding and allow a full six to eight weeks of growth, during which time the pitches would not be used.
"The ideal time for us to carry out this change is when the temperatures drop below 30 degrees (Celsius), and the warm season grass becomes less active than the cool season grass."
However, Lyons will adjust the schedule in 2022. With the FIFA World Cup beginning in mid-November and running four weeks, Lyons will overseed in early October to give the fields ample time for establishment and maximum performance in preparation for the 64 games of the world's most-watched sporting series.
Not all facilities have the same world spotlight or the flexibility to hold play for an extended period.
"Many of the sports turf managers I work with are in a time crunch when overseeding," said Justin Balich, Regional Sales Manager at Pure Seed. "Often, they have less than 12 days between the time they seed the field and the time the next game is played. Whether they are using perennial ryegrass or a ryegrass and Kentucky bluegrass mixture, the product needs to feature rapid establishment and performance."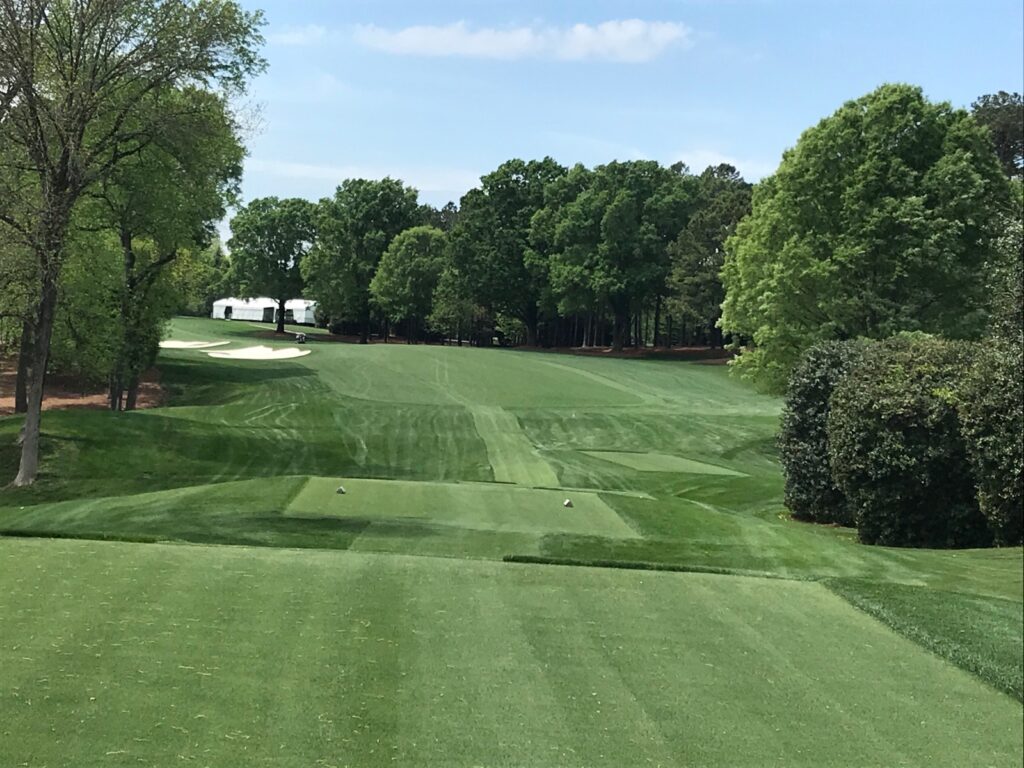 The Process of Overseeding
The way in which golf course superintendents and field managers conduct the process of overseeding can vary as much as the timing. The customary steps that most professionals follow include:
Shaving down the base turf – a close cut provides good seed-to-soil contact for optimal germination
Spreading the seed
Irrigating generously
Wood begins his process with an application of Revolver herbicide at 10 ounces per acre approximately ten days before the seed goes out to control any Poa annua that may have germinated before seeding. He does his scalping with rotary mowers and reel mowers.
"I like to tell my assistants that when the seed goes down, the surface needs to be open to catch the seed and hold on to it, so that way, if we get a thunderstorm, the seed doesn't wash away. It almost acts like a catcher's mitt."
After dropping the seed, Wood "waters away" for about five to seven days until he sees germination and then reduces watering during establishment to allow the surface to dry a little in preparation for the first cut.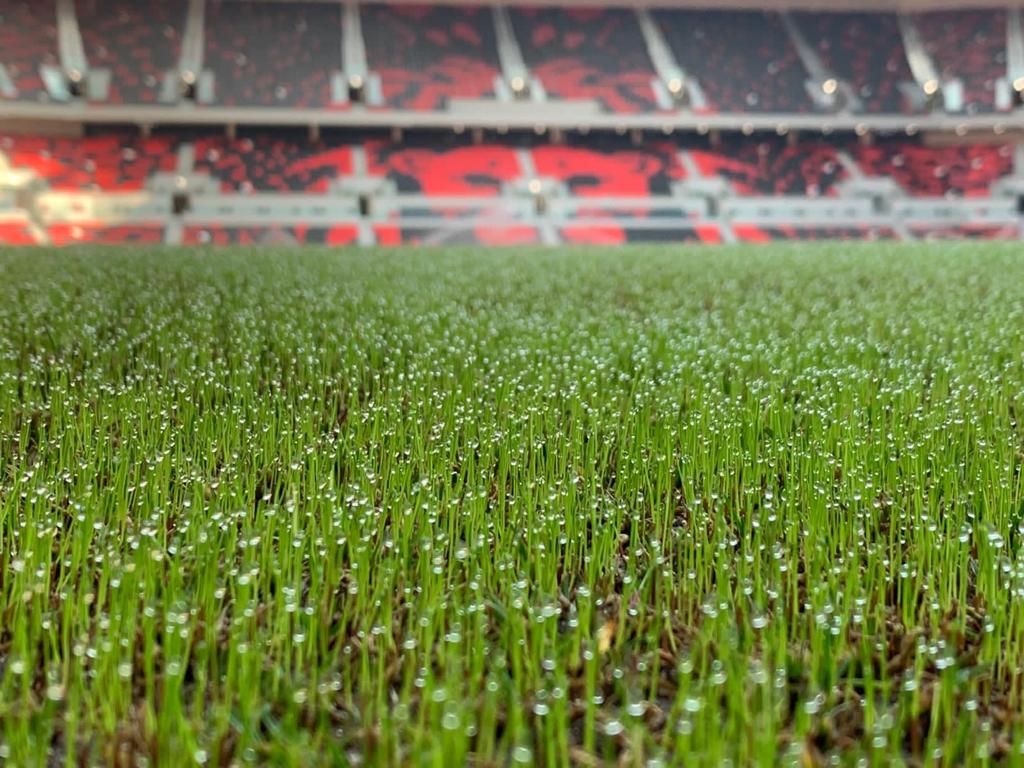 Reaping the Rewards
While the overseeded stand is present in the dormant warm season grass, desired playing conditions are maintained. Lyons summarizes the attributes he was searching for and found in the Pure Seed ryegrasses:
Good turf color
Heat tolerance
Drought tolerance
Disease resistance
Shade tolerance
Sward density and turf quality
High recovery rate
High wear tolerance
Transitioning Back to the Warm Season Stand
In late spring, the transition begins as the active growth phase resumes for the warm season species. Factors affecting when the transition will occur include air temperature, soil temperature, and the increasing number of daylight hours. Some ryegrasses with increased heat tolerance are selected as blend components to provide a more gradual transition.
Bluemuda: An Alternative to Overseeding
A new approach gaining popularity in the transition zone is the practice of maintaining a combination turf stand of both cool and warm season grasses year-round. Bluemuda is the mixture of Kentucky bluegrass and bermudagrass. The species co-exist to provide a suitable playing surface for every season.
"In our trials and the trials at the University of Kentucky," said Fraser, "Jump Start Kentucky bluegrass has performed well. Its rapid establishment and heat tolerance make it a good choice for this interesting turf use."
Jump Start blends well with the bermudagrass and serves its purpose in the combination turf with good heat and drought tolerance and early spring green-up.
Selecting and Ordering Overseeding Products
Whether choosing a single variety ryegrass, a ryegrass blend, or a mixture of species, it is important to select carefully. Matching project conditions and overseeding goals with the characteristics of the many available products helps to ensure a successful process. Atlas Turf International partners with Pure Seed to provide seeded products worldwide. Atlas Turf President John Holmes cautions that not all ryegrasses offer the same level of quality.
"When selecting overseeding products," said Holmes, "it is important to know when the seed was harvested. You should look for seed harvested within the last two years. The age of the seed can affect germination, possibly causing germ rates to fall as much as 20 to 30 percent."
Seeded product sales come with a seed analysis tag, which lists the seed lot number. The seed analysis tag also lists the blend components, if applicable, and germination information.
In recent years, inventory of ryegrass has fallen short of demand. Global shortages can be attributed to fewer acres being planted as farmers choose higher margin crops. Seed company consolidations and greater demand by homeowners also contribute to the scarcity. Holmes encourages superintendents and field managers to place their orders early.
"For international customers, we strongly recommend getting orders placed six to eight months in advance of planting. Customers in the United States should order at least four months before planting."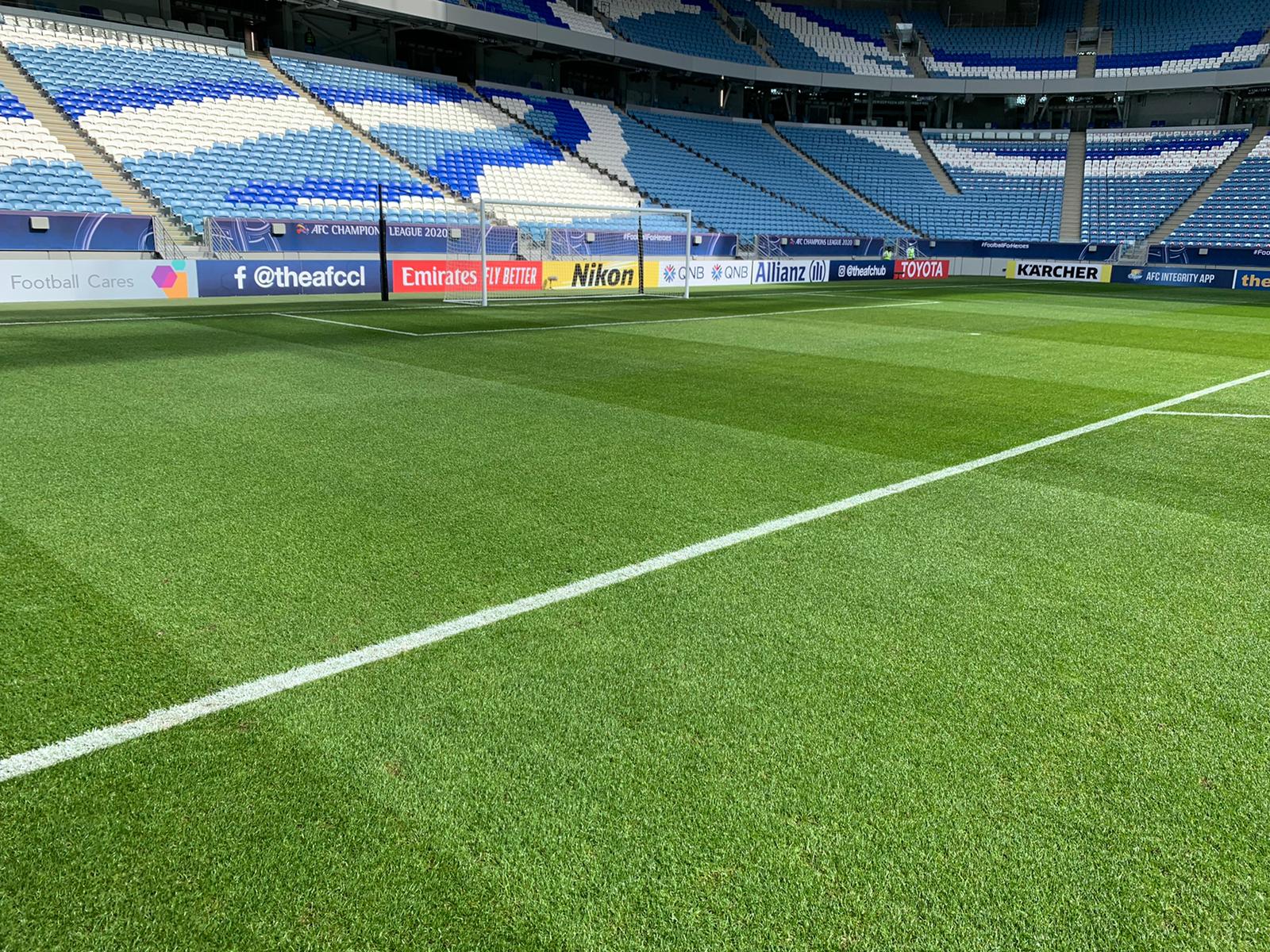 The End Result
Over the years, expectations for golf course and sport field conditions have grown higher and higher, and improved turfgrass products rise to the occasion. Both Lyons and Wood have found that overseeding is a valuable part of their efforts to provide the best playing surface available, whether for club members, professional golfers of the highest caliber, or the world's premier footballers competing before viewing audiences of more than 3.5 billion.
"The field managers and superintendents we work with," said Balich, "trust and value the ten-plus years of breeding Pure-Seed Testing invests in taking a grass seed from the research farm to the playing field and golf course. They work hard, and the goal is to keep their turf at its pinnacle."
Learn more about overseeding in the Pure Seed Virtual Field Day video.