Sunday™ Ultra-Dwarf Bermudagrass (Cynodon dactylon) is ideal for:
Golf Course Tee Boxes
Golf Course Greens
Sunday™ Ultra-Dwarf Bermudagrass combines the most sought-after characteristics of high performance putting green turfgrasses and is also ideal for tennis courts and bowling greens.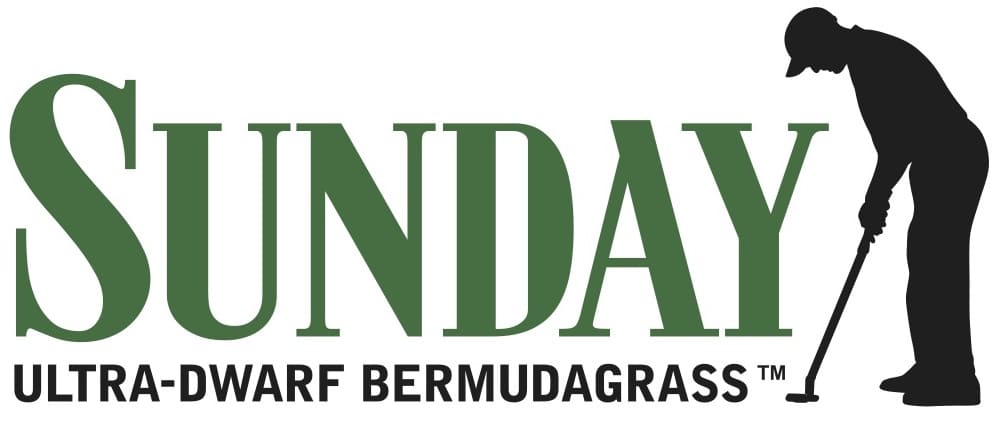 Developed by a turf grower and golf course owner, Sunday is uniquely bred to produce the ultimate golf greens. Sunday putts like an ultra-dwarf bermudagrass, manages like a dwarf bermudagrass, and feels like a bentgrass. With a massive root system, Sunday offers excellent durability and can be mowed as low as .100 inches. This ultra-dwarf has an exceptionally fine texture, uniform grain, and consistent surface for smooth ball roll. The color of Sunday is monolithic, providing a highly aesthetic green.
Product Features:
Genetically stable for over 25 years
Massive root system
Better disease resistance
Best cold tolerance among ultradwarfs
Early spring green-up and very good fall color retention
Very good wear tolerance
Sunday™ Ultra-Dwarf Bermudagrass Characteristics:
Fall Color Retention :

VERY GOOD
Spring Green-Up :

VERY GOOD
Wear Tolerance :

VERY GOOD
Cold Tolerance :

VERY GOOD
Sunday™ Ultra-Dwarf Bermudagrass is sold as Stolons. Recommended mowing height is 2.03mm-6.35mm (0.08″- 0.25″). Planting rates vary by application and site conditions. Please contact us for more information.