Thanks to cutting edge research and development from university programs, new advanced turfgrass varieties offer significant improvements over older selections. Latitude 36™ Bermudagrass, a product of the Oklahoma State University research program and selected by Sod Solutions, is the latest example of this innovation. Atlas Turf is proud to offer Latitude 36 to the international market.
History of Latitude 36
Oklahoma State University (OSU), credited with some of the world's most advanced turfgrass varieties, developed Latitude 36 through an extensive seven-year testing program. Improving upon their earlier releases of Patriot and Riviera, Latitude 36 represents the next stage of bermudagrass development.
"Our initial breeding goal for Latitude 36 was to create new varieties improved in cold hardiness, turf quality, and adaptation," said Dr. Yanqi Wu, Meibergen Family Endowed Professor in Plant Breeding at OSU. "Latitude 36 has these desired traits."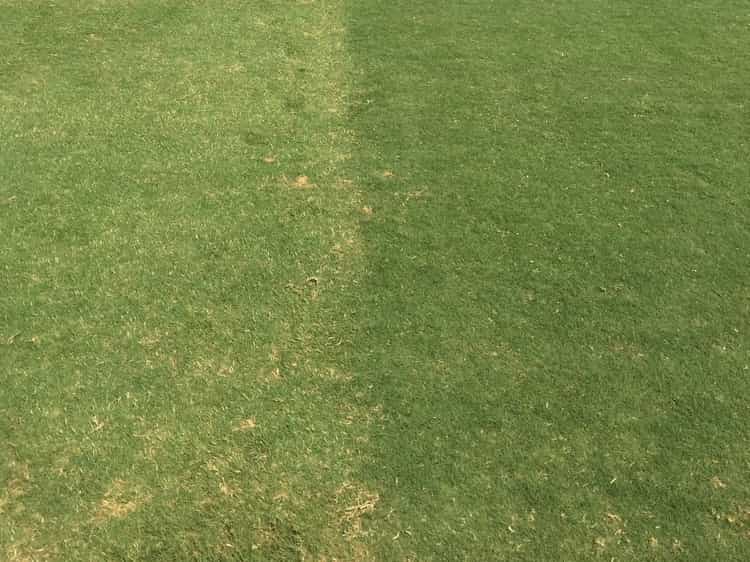 Latitude 36 was part of the 2007-2012 and 2013-2018 National Turfgrass Evaluation Program (NTEP) bermudagrass tests. "In the two tests," said Wu, "Latitude 36 was always in the top group in turf quality, indicating this variety consistently performed well over a large geographic range and multiple environments (10 years in around 20 locations). Now Latitude 36 is a national standard variety in the 2019-2024 NTEP trial. Cold hardiness and spring spot disease resistance of Latitude 36 are significantly better than many previous varieties, such as Tifway [419]. Turf quality of Latitude 36 is exceptional."
Read more about award-winning turf breeder Dr. Yanqi Wu.
Advanced Turfgrass Characteristics of Latitude 36 Bermudagrass:
Early green-up – 30-40 days sooner than other bermudagrasses
High density with more growing points per square inch
High recovery rate after wear and divots
Excellent cold tolerance
Excellent disease resistance, particularly against spring dead spot
Low (almost zero) seed head production
Finer texture for faster playing surfaces
What Sets Latitude 36 Apart
Latitude 36 provides an advanced turfgrass solution for golf courses, sports fields, and landscaping. It is ideally suited for many locations and applications due to its impressive range of benefits. Latitude 36 is dark green with a soft feel and a finer leaf blade than either Tifway 419 or Celebration.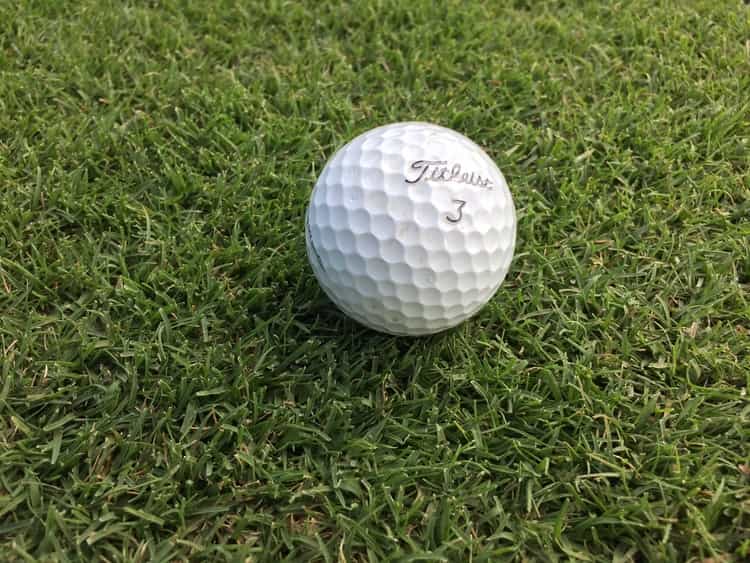 When compared to zoysia, Latitude 36 offers several advantages. "I can tell substantial differences between Latitude 36 [and zoysia matrella varieties]," said Wu. "Latitude 36 has been improved for cold hardiness and traffic tolerance in addition to its 'beauty' turf traits (i.e., very fine and soft leaf blade, uniform turf surface, etc.). Matrella is fine in leaf texture, but its leaf blade stiffness is much greater than Latitude 36."
Latitude 36 offers superior playability with upright growth, allowing the ball to sit up well, and a fine texture leading to faster playing surfaces. It features a dense canopy and has less tendency to scalp than other bermudagrasses. Wear tolerance and recovery set Latitude 36 apart from zoysias as well. "Latitude 36 recovers much faster than the matrellas in high traffic situations, making it an ideal choice for sports fields and golf courses," said Wu.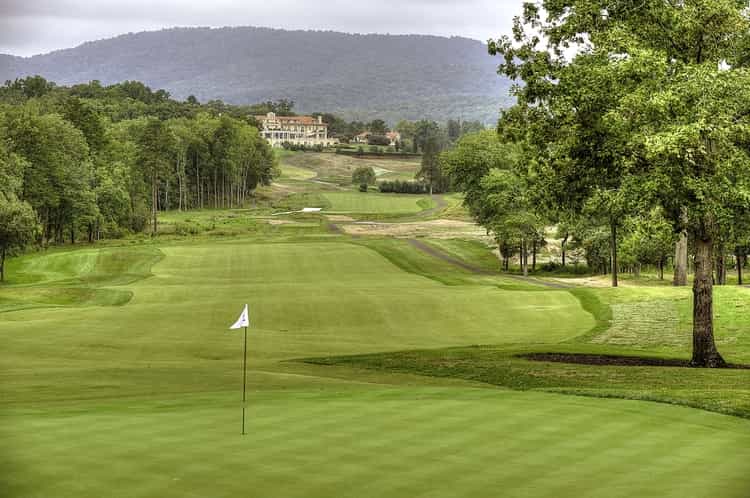 Superior Disease Resistance
Besides zoysia's problems with recovery, it is also prone to Large Patch disease, commonly referred to as Zoysia Patch. This disease tends to affect large areas of the golf course. It is costly to control and requires multiple applications of pesticides. Large Patch disease is more pronounced in the transition zone. The most damaging effects happen going into and coming out of the cooler winter months, meaning that a golf course with Large Patch can suffer for several months of the year. Unlike zoysia matrella, Latitude 36 very rarely contracts Large Patch disease.
"Over the last 15 years, I have only observed Large Patch on Latitude 36 two times," said Wu. "Furthermore, the severity of Large Patch disease on Latitude 36 bermudagrass is much less than many zoysiagrass cultivars. Latitude 36 bermudagrass recovers from Large Patch disease damage in two to three weeks, unlike some zoysiagrass cultivars that may need four to eight weeks or even longer."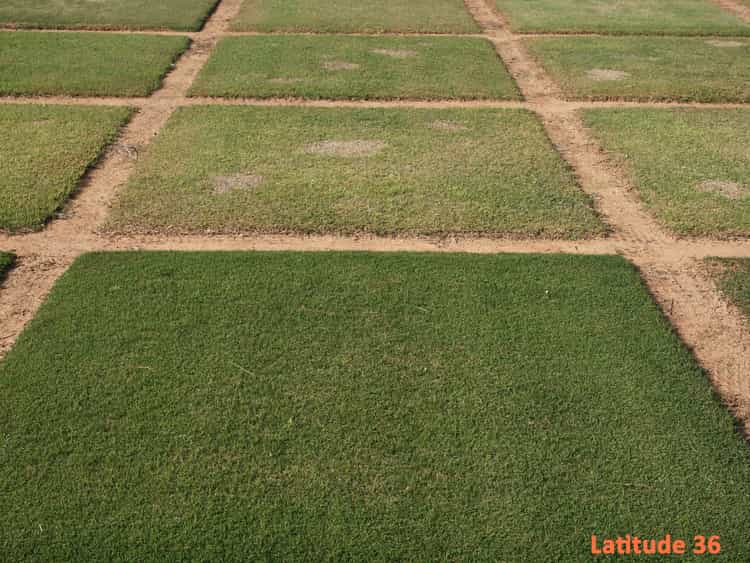 Crucial in tropical regions is Latitude 36's exceptional disease resistance. Dr. Wu states, "Latitude 36 has much improved Spring Dead Spot disease resistance over Tifway [419] and some older turf bermudagrass cultivars."
For the Transition Zone and Beyond
Perhaps the most impressive benefit of Latitude 36 is its ability to thrive in a wide range of temperatures from sub-tropical to the transition zone and beyond. "Latitude 36 can be used in transition [zones] and southern climates while matrella is only adapted in southern climates," said Wu.
Latitude 36 offers superior winter color retention and early spring green-up for a greener turf longer. The variety has good salt tolerance and moderate shade tolerance.
Golf Courses and Sports Fields Selecting Latitude 36
With benefits like these, demand for Latitude 36 is growing quickly. The variety is featured on several sports fields including Orlando City Soccer Club's Orlando City Stadium (MLS), FC Dallas' Toyota Stadium (MLS), Purdue University's Ross-Ade football stadium, Duke University's Wallace Wade football stadium, and Tennessee Titans' NFL practice field in Nashville. In the Middle East, Latitude 36 was chosen for Al Sadd Stadium and Khalifa Stadium, both in Doha, Qatar.
Golf courses are also selecting Latitude 36 including the new Jack Nicklaus signature Ashgabat Golf Club in Turkmenistan. In the United States, over 40 golf courses are grassed with Latitude 36, including Loxahatchee Club in Jupiter, Florida; Broken Sound Club in Boca Raton, Florida; and TPC at Piper Glen in Charlotte, North Carolina.
Recent golf course renovation projects include Pelican Golf Club in Belleair, Florida by Beau Welling Design; Belfair East in Bluffton, South Carolina; and the North Course at Hunters Run Country Club in Boyton Beach, Florida by Sanford Golf Design.
What Professionals Have To Say About Latitude 36
Jim Sprankle, CGCS, Superintendent – The Loxahatchee Club in Jupiter, Florida
"At The Loxahatchee Club, we evaluated several Bermudagrass varieties to complete our 2016 Nicklaus renovation. We chose Latitude 36 for its fine leaf texture, upright growth habit, and its excellent playability. It has performed beyond our expectations."
Chris May, Director of Athletic Grounds – Georgia Tech in Atlanta, Georgia
"We have just been blown away by [Latitude 36] every year. The color retention in the fall is a big plus for all of us who have it. We are trying to push our grass to the limits. I mean the things we are trying to do during a football season are almost impossible. We are trying to make a plant do something it was not really put on this planet to do so any benefit we can get, any advantage we can get, we are going to take it."
George Redshaw, Superintendent – Boca Lago Country Club in Boca Raton, Florida
"Any superintendent doing a renovation, if you are not putting down Latitude 36, you are doing yourself a disservice."
Mike Fabrizio – Former Director of Golf (Retired) – Daniel Island Club – Charleston, South Carolina.
"The reason I chose Latitude 36 over other grasses we have evaluated…two of the main reasons. Number one, the texture and growth habit and number two, and more importantly, the earlier spring green-up and the later growth potential into the fall. I think there's going to start to become a buzz about this grass as more get it in and more people experience it because, in my opinion, from a fairway standpoint and a tee standpoint also, it gives a superior surface to [Tifway] 419."
Matt Bruderek, Groundskeeper – Orlando City Stadium, home of Orlando City Soccer Club (MLS), Orlando, Florida.
"We put in the Latitude in December of 2016. The original reason I chose it was because of the cold tolerance. I didn't want to overseed in the wintertime here in Florida. We are going to have winter events. Also, I really liked the growth habit. For soccer, everything is very small and fine on it. You can get it nice and tight. It's a really good surface for soccer…really happy with the decision. It's played great. The players love it. Recovers very well. Nothing but positives to say."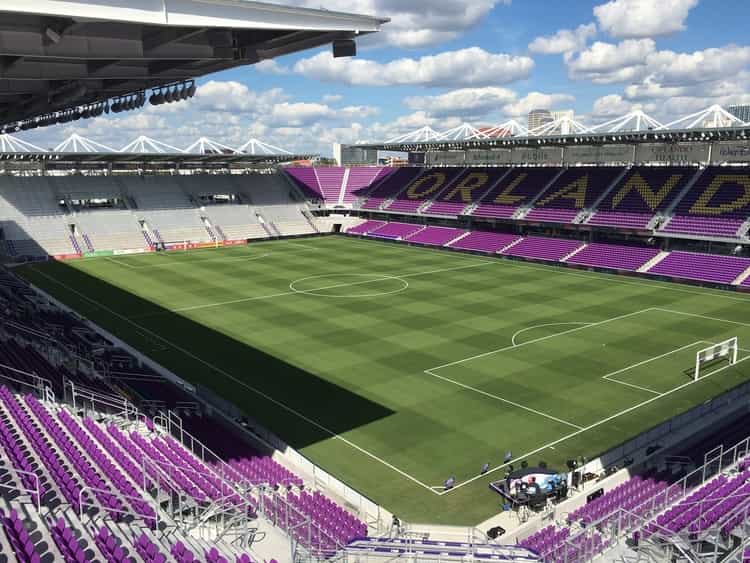 Get the Real Thing
Latitude 36 Bermudagrass is licensed and certified to ensure that the quality delivered is exactly as promised. To be certain that you are getting all of the benefits that the specialized breeding of Latitude 36 promises, do not accept inferior substitutions or imitations. In addition, be aware of the dangers of turfgrass piracy. Atlas Turf International is the exclusive provider of Latitude 36 Bermudagrass in Southeast Asia and the Middle East. Genuine Latitude 36 Bermudagrass is only available through Atlas Turf and its current distributors in these regions. If you are offered Latitude 36 by any other source, you are not getting the real thing.
Do you have questions about your turfgrass project, or would you like more information on Latitude 36 Bermudagrass? We can help. Contact us today.

John Holmes
President, Atlas Turf