by Atlas Turf President John Holmes
After more than a few decades of planting, maintaining, and selling turfgrasses, I've discovered an indisputable truth: there is no perfect turfgrass. No single species or cultivar perfectly suits the conditions for every project, in every region, and under every set of circumstances. However, I have discovered that in certain situations, paspalum is the perfect fit.
Versatility of Paspalum
Paspalum is the most versatile species of warm season turfgrass available. Tolerant of a wide range of mowing heights, paspalum performs well on golf courses from tee to green. With an upright growth habit, paspalum allows golf balls to sit up in roughs and fairways. It is equally suited to sports fields and landscaping. Versatility extends to planting material with paspalum available as both a vegetatively propagated and seeded product, a claim very few high-quality turfgrasses can make.
Paspalum is the Salt Tolerance King
Salt tolerance is another area where paspalum shines. Dr. Ron Duncan, developer of Platinum TE™ Paspalum and several other noted cultivars, says that while some other species are able to take up limited amounts of salt, paspalum is the most salt-tolerant warm season turfgrass.
"By genetically regulating the uptake of salt in the root system and sequestering excess salts in the wax load on leaves and stolons from sprinkler irrigation of saline water, paspalum is a more tolerant turfgrass in highly saline soil and water conditions," says Duncan.
It is important to note that any turfgrass, including paspalum, can be overwhelmed if salt accumulation is not properly managed in the soil profile. "The key term here is 'tolerance,'" continues Duncan. "The species is not going to remove very much of the salts from saline irrigation water or from the soil; however, paspalum gives turf managers more time to manage the soil salinity challenges and then to achieve the expected turfgrass performance, a key environmental sustainability capability."
As more and more facilities begin to irrigate with effluent water, paspalum's particular process of tolerating salts becomes more valuable and allows for the development of venues in areas where many other turfgrasses would not be able to survive.
Turfgrass Aesthetics
Whoever said that looks don't matter has never seen a pristinely striped paspalum fairway or sports field. With a fine leaf texture and a deep, blue-green color, sometimes compared to Kentucky bluegrass, paspalum's cosmetic appearance is a stunning feature. Dr. Paul Raymer, professor at the University of Georgia's Department of Crop and Soil Sciences and breeder of paspalum, explains that the paspalum cultivar's superior striping abilities are "due to its waxy leaf surface combined with little or no pubescence (leaf hairs)."
Wear Tolerance and Quick Recovery
In addition to beauty, paspalum has strength. Exceptional wear tolerance allows paspalum to endure extreme levels of use whether through rounds of golf or athletic field activity. Rapid growth also enables paspalum to recover quickly from damage caused by wear, divots, and pest challenges.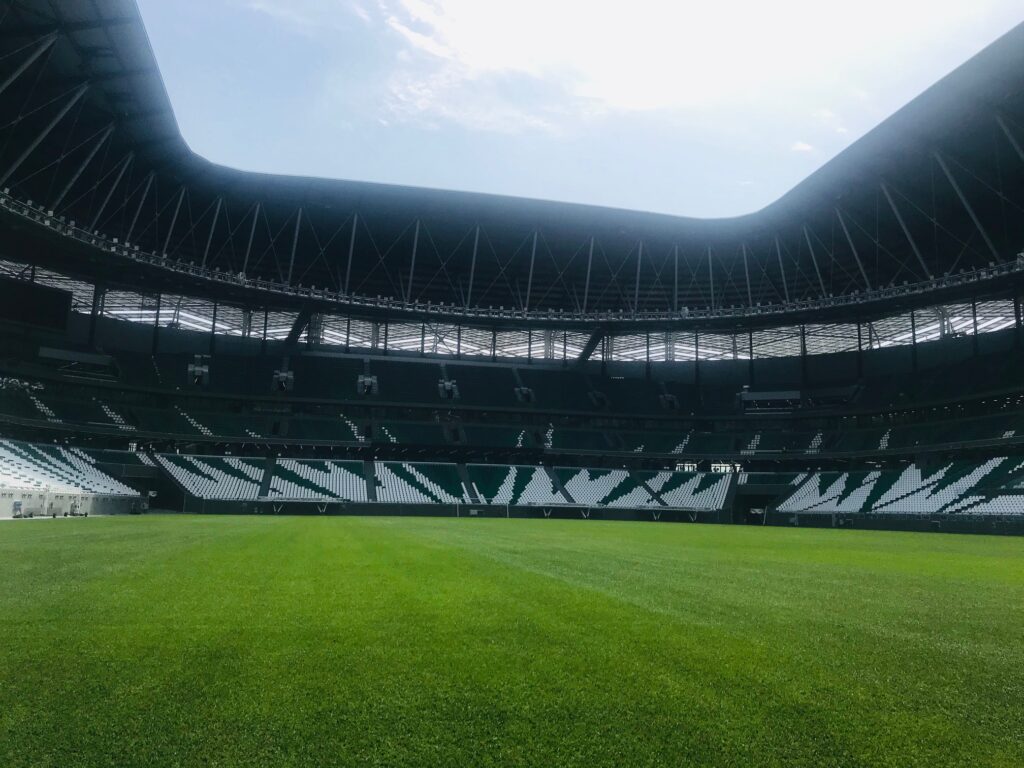 Shade and Low Light Intensity Tolerance
Certain paspalum cultivars exhibit excellent low light tolerance. Healthy color and growth performance are not compromised in shade-prone areas, but perhaps more impressive is paspalum's tolerance of low light intensity. Regions with heavy and persistent cloud coverage and extended periods of rain will see consistent quality in paspalum as well as faster recovery in these conditions than with other warm season species.
Sports franchises of the highest caliber select paspalum including Major League Baseball (MLB), the National Football League (NFL), and Major League Soccer (MLS). FIFA World Cup Qatar 2022 will feature paspalum on every stadium and practice field.
Paspalum Green Speeds
Green speeds need not be a deterrent to selecting paspalum. While ultra dwarf bermuda is the most commonly used putting green grass in warm season regions, championship level stimpmeter readings are achievable with paspalum. The key is maintaining proper nutrient levels.
Experienced golf course superintendent Neil Cleverly recently managed the paspalum greens at the Rio 2016 Olympic Golf Course. "Preparation of the greens surfaces prior to and for the games consisted of maintenance practices to encourage and provide tournament professional quality at speeds of 11-11.5 on a daily basis," says Cleverly. "Any faster than this would have proved detrimental to play due to the undulating green surfaces and windy conditions on any given day of play. This [green speed] was achieved through previous months of verticutting, grooming, topdressing, rolling, applications of granular Ca, K, Mg, Mn, Zn, and foliar applications of bio-stimulants and organic products."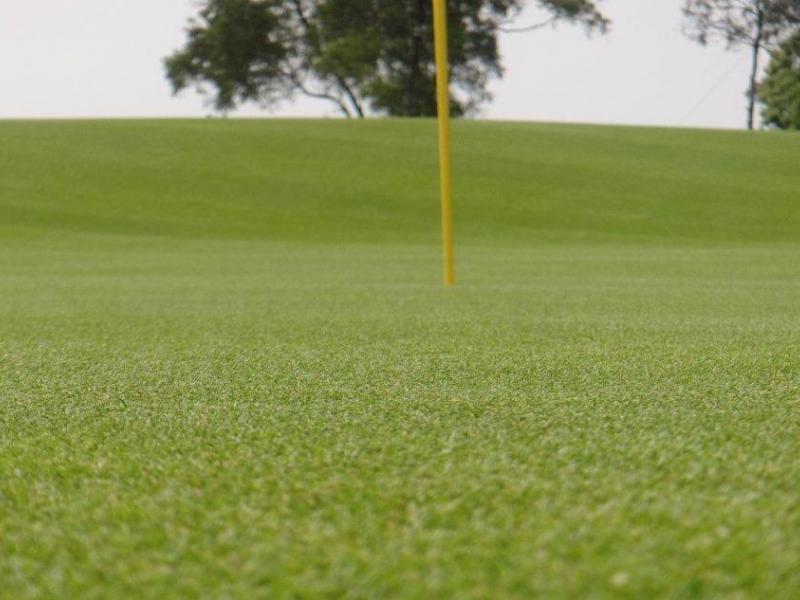 At previous courses, Cleverly has attained paspalum green speeds as high as 12-12.5 feet on the stimpmeter. One caution he notes with paspalum greens, however, is that it is important not to scalp the surface due to the cellulose content. "Regular top dressing is important to keep the greens surface firm and create a continuous oxygen flow through the upper layer of the greens profile," says Cleverly. "Rolling is another important practice to employ in the greens maintenance program."
Lower Input Requirements of Paspalum
Input requirements for paspalum when the turfgrass is properly managed are minimal except possibly in conditions with constant rain or areas with low air movement. Fertilizer requirements are moderate compared to other warm season turfgrasses, and nitrogen requirements are minimal, with paspalum typically requiring fifty percent less nitrogen than bermudagrass.
Disease Resistance
Similar misconceptions exist regarding paspalum and disease challenges. Duncan states, "Paspalum is no more susceptible to disease than any other turf species; but when disease does occur, paspalum's rapid growth allows quicker recovery than slower growing warm season turf species."
In his educational programs, he encourages turf managers to be aware of environmental conditions commonly leading to disease challenges. As an example, he says, "Opportunistic pathogens react with changing weather such as foggy mornings and high humidity, which can lead to dollar spot and other foliar pathogen in any paspalum or other warm season turfgrass species and cultivar."
Raymer agrees with a proactive approach to disease. "Early treatment is key, but by managing nutrients properly, disease pressure with paspalum should not be an issue."
Tim Hiers, CGCS, who has a long and successful history of managing paspalum courses in Florida says, "It is a myth that paspalum requires lots of fungicide and other inputs. More likely, the problem is a lack of experience in managing this grass."
Management Requirements
Management of paspalum is a relatively easy process, especially when superintendents take the measures necessary to fully understand the site's soil and water conditions and implement the correct sustainable maintenance programs. Maintaining the proper nutrient balance and conducting routine cultural practices keep costs down and ensure optimal performance from the variety. Of all warm season turfgrass species, paspalum has the least amount of thatch build-up, a problem that can lead to unhealthy turfgrass conditions, soil-borne disease problems, and poor playability. With less thatch, paspalums require less vertical mowing and topdressing.
Not a Highly Invasive Turfgrass
Paspalum has taken unfair criticism when it comes to invasiveness. On the contrary, zoysia and bermudagrass varieties can be more difficult to control when they encroach into unwanted areas. "Of warm season grasses," says Raymer, "paspalum is probably the least invasive. Zoysia, with its aggressive rhizomes, is more invasive than paspalum or bermuda."
Worldwide Adaptability
In many areas of the world, paspalum is a broadly adapted turfgrass, particularly in tropical and subtropical regions. Paspalum grows successfully on every continent with one obvious exception. Some notable locations include Kiawah Island Golf Resort in South Carolina with multiple paspalum courses hosting more than a few championship events. In Central America, paspalum is the turfgrass at The Black Pearl at Pristine Bay Resort in Honduras. In the Caribbean, paspalum is featured at many courses including Playa Grande and Casa de Campo. In Southeast Asia, some of the many paspalum examples are Lao Cai Golf Club in Vietnam and Bukit Pandawa Golf Club in Bali. Two courses at Polaris World in Spain feature paspalum, and the species has also proven effective in desert environments such as the award-winning Yas Island Links in the United Arab Emirates, Mazagan in Morocco, New Giza in Egypt, and European Tour stop Royal Greens in Saudi Arabia.
Paspalums On the Horizon
University researchers and Pure-Seed Testing plant breeders are hard at work with more promising releases of paspalum cultivars on the horizon. Crystal Fricker, president of Pure Seed and award-winning turfgrass breeder of Pure Dynasty®, is currently working on the development of new paspalums that are cold tolerant and provide improved playability and disease resistance.
"Paspalums can grow in many different environments," said Fricker. "Our paspalum research focuses on greater adaptability in those environments and continuing to improve turf quality."
Raymer, who leads the paspalum breeding program at the University of Georgia, is also working on new paspalum cultivars with improved disease resistance, herbicide resistance, and improved salt tolerance. "We have a couple of major projects to develop a non-GMO herbicide resistant system allowing us to control bermudagrass and other weedy grasses in paspalum."
Since its introduction to the golf and sports field commercial markets in the 1990's, paspalum has earned its place as a relevant turfgrass. Its strengths and benefits, when matched appropriately with project conditions and venue expectations, provide the perfect solution in many circumstances.
No, there is no perfect turfgrass, but paspalum is more relevant than ever.
How can we help you today? We are happy to provide you with more information about Paspalum Turfgrasses and answer any questions you may have.

John Holmes
President, Atlas Turf