A Closer Look at How Championship Turfgrasses Are Created
When the eyes of the golf world turn to Rome, Italy, in late September for the Ryder Cup, the worldclass golf course will be composed of turfgrasses from Pure Seed, co-marketed by Atlas Turf International. For every component of the event, only the most elite selections are worthy of the Ryder Cup. Turfgrass is no exception.
Pure-Seed Testing, Inc. developed nearly all of the high-performing turfgrasses chosen for the redesign of Marco Simone Golf & Country Club in preparation for the Ryder Cup. Pure Distinction Creeping Bentgrass on the greens; Pure Dynasty® Seeded Paspalum on the tees, fairways, collars, and surrounds; and PureLinks fescue blend in the roughs are products of the renowned breeding program that has spanned more than 50 years and three generations of award-winning plant breeders.
"Our family has a long history in the grass seed industry since my father, Bill Rose, started our business in the early 70s," said Crystal Rose-Fricker, president of Pure Seed and Pure-Seed Testing, Inc. "At every stage and on every level, we understand the value of high-quality grass seed."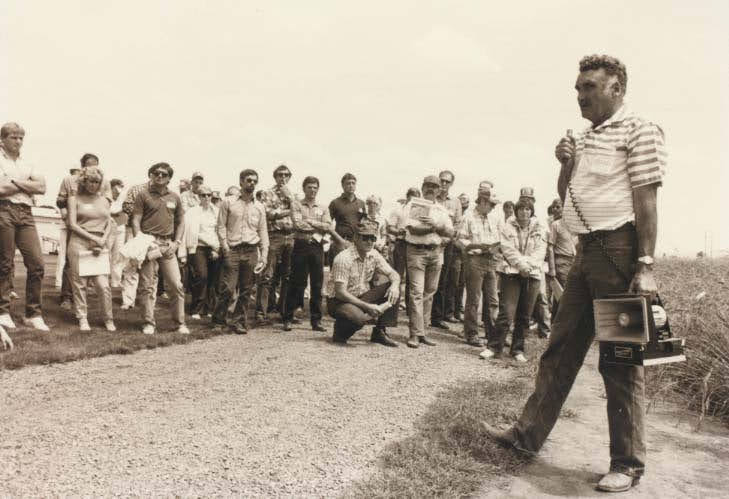 A Lengthy Timeline
Maintaining this commitment to the highest quality is carried through from research and development to production and marketing – which can be a lengthy timeline. While end users appreciate the value of the turfgrass products created by Pure-Seed Testing, few comprehend the complexity of the process required to bring a new turfgrass to market.
"From the time original plant material is selected until a variety becomes commercial can easily take 15 to 20 years or even more," said Fricker. "With Pure Distinction, for example, grasses were screened in greens trials on the East Coast for over ten years before we selected plants from them. These were taken to our breeding facility in Oregon for another ten years of crossing, evaluating, harvesting seeds, and trialing. We put them in trials in our North Carolina facility to evaluate disease pressure. We also put them in trials at Penn State and Rutgers University. Then the best of the bunch was submitted to the National Turfgrass Evaluation Program (NTEP) for another five years. Based on those results, we decided to put the variety into production, which requires another three years. It takes a lot of time to get to market."
The process is even longer for products such as those at the Ryder Cup that are developed in the United States and taken to Europe. To become registered in the EU, turfgrass varieties undergo a lengthy evaluation process to ensure they meet uniformity requirements and are morphologically distinct. This process can take over three years but ensures that the varieties that make it onto the EU list possess performance traits that add unique value to the market.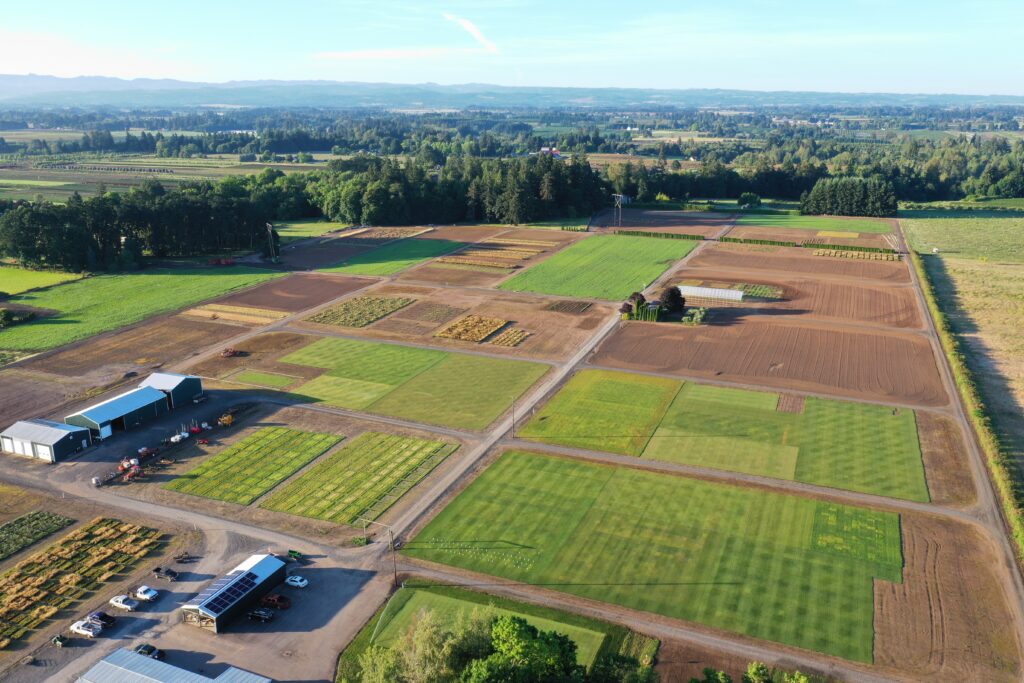 It Begins with Breeding
During the research and development stage, Pure-Seed Testing focuses on breeding products that are better than what has come before. With years of experience and over 200 acres of research, Pure-Seed Testing screens germplasm – or plant material – and develops a protocol for each species producing the traits that make a difference: deeper roots, better salt tolerance, better drought tolerance, disease resistance, and more.
"Think of it as a pool of plants," said Fricker. "By selecting our very best germplasm, we are shifting that pool to the traits we want over time, and it keeps getting better and better. As we become more advanced at breeding and identifying what we need, we're able to now put multiple traits in a variety and not just focus on one single trait. We are shifting the pool to those advanced traits. Because we've been breeding for decades, we've elevated our whole germplasm in each species to much higher levels."
The Needle in the Haystack
While Fricker makes the process sound easy, it is anything but. Patience and persistence are required. Starting with hundreds of experimental plants, the crossing and evaluating process involves multiple replications producing thousands of plants for trialing. Initially, this occurs in the Oregon and North Carolina Pure-Seed Testing facilities.
"In Oregon, conditions are perfect for seed production, so breeding out here is a huge advantage. But in North Carolina, with the heat and humidity, we're able to put the plants through extreme disease pressure," said Fricker. "I've never seen a research facility with more disease pressure. Without fail, there is some disease killing or impacting 90% of the plots. And that's what you want as a breeder – something that shows you the best 10% or less of all the plots."
The thousands of plants being trialed are reduced as non-performing plants are eliminated. In addition to Pure-Seed Testing facilities, trials are conducted with universities and private companies worldwide to evaluate varieties under different environmental conditions in different regions. Plants that made the first cut may not do well when tested at other locations, further reducing the pool of plants.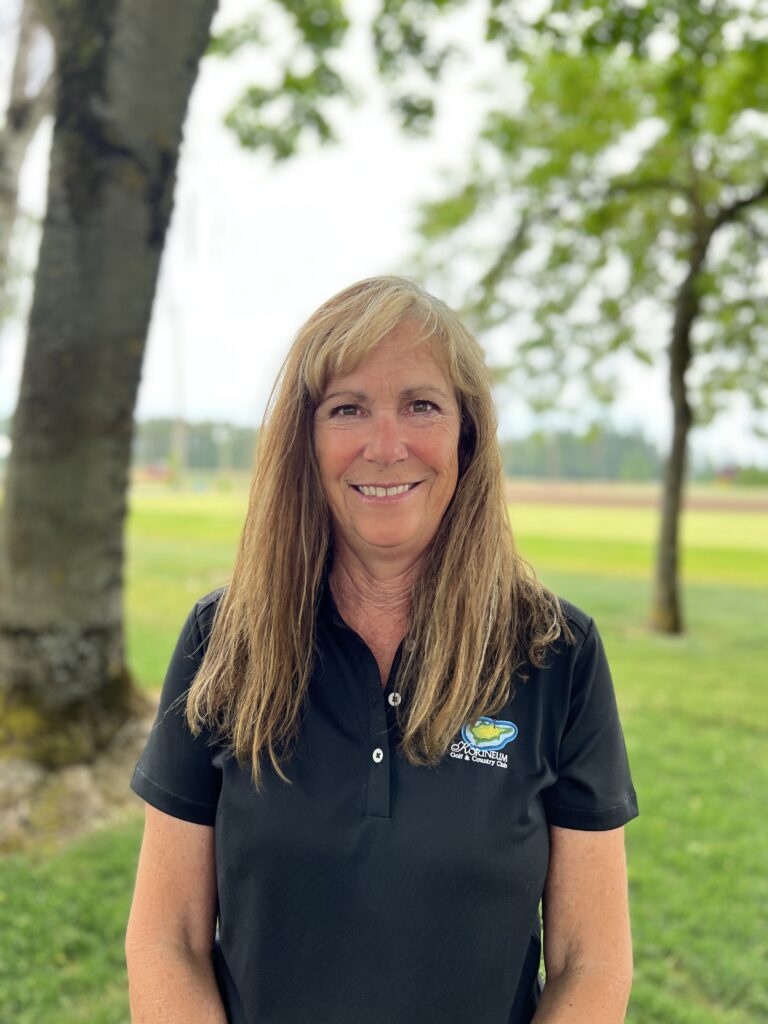 In addition to turf trials, Pure Seed conducts seed yield trials where new varieties are planted, harvested, cleaned, weighed, and evaluated for seed yield potential. If a plant meets all the other tests, but the yield is not there for successful production, the option is not viable.
"We throw away a lot of plants that don't measure up – those that get disease or aren't drought tolerant, or don't have good seed heads or don't have the color or texture we're looking for," said Fricker. "After all of this, we've narrowed it down to what we think is worth putting into NTEP, and then out of those, what eventually gets licensed and then taken to market could be less than five percent of the number of experimentals we started with."
Pure-Seed Testing spends millions of dollars on research and development each year, with only the best varieties rising to the surface. Through comprehensive marketing efforts with partner company Atlas Turf International, distributors, and customers around the globe, Pure Seed has very specific goals for developing new varieties.
"I think that is our advantage," said Fricker. "With our partners, we understand what we need to develop a variety for – what traits we need so that we are very relevant and intentional with the varieties that we release. Our investment is high, but we have a very high success rate of Pure Seed varieties that make a real difference."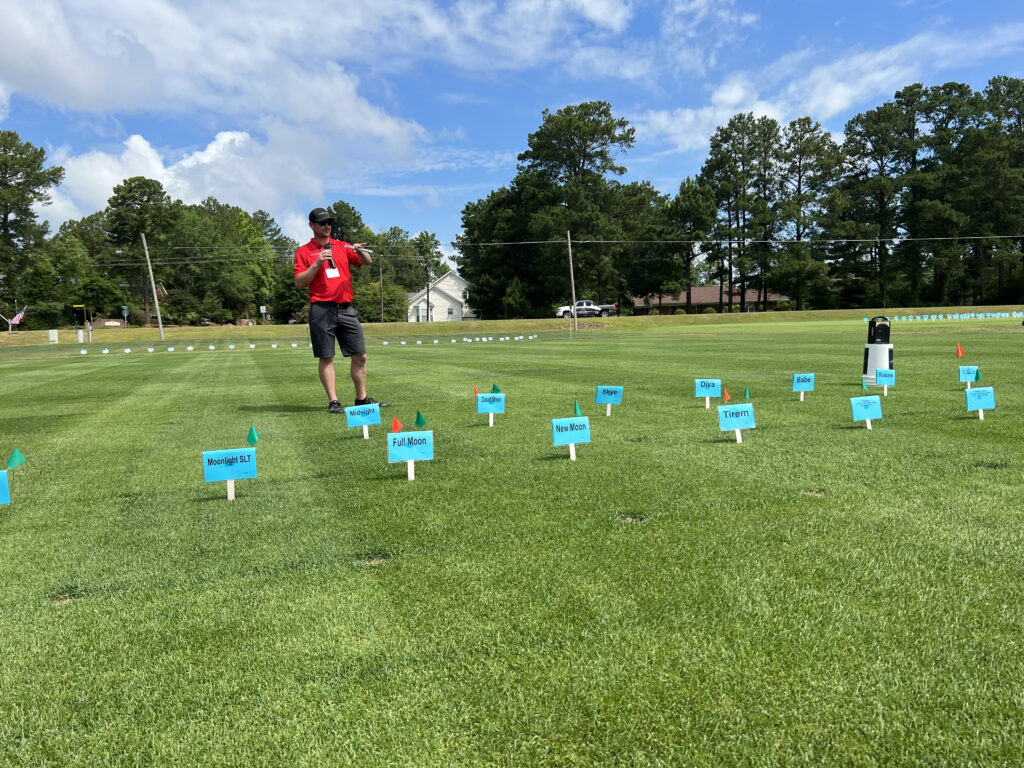 Ensuring Success
Once Pure Seed selects varieties for commercial release, additional measures are taken to ensure success, including the quality of the growers and technically advanced seed coating.
"Since the beginning of our business, we have valued high-quality grass seed production," said Fricker. "We are growers first and have been for over 50 years. We also work with the best growers to produce our seed, not only in Oregon, but around the world."
And once that seed enters the market, scientifically advanced seed coating developed by Pure Seed provides an extra insurance policy for the end user. With over 20 years' experience, Pure Seed's coatings provide added protection to the seed with proprietary blends of fungicides for Pythium, fertilizer, moisture-absorbing polymers for germination, and other ingredients that help with root penetration.
"Improved coating is an area of technology for the future of seed," said Fricker. "Seeds are valuable, and we want to give them the most perfect conditions to thrive."
Sustainability Throughout
Incorporating sustainability into the process from beginning to end is a central goal at Pure Seed. From breeding to production to end-user applications, sustainability takes priority.
"It's everything we do," said Fricker. "That's what breeding is all about for us – developing something meant to survive. The whole scheme is looking for the best plants that survive harsh conditions."
Improving drought tolerance in all species is a primary example of sustainability in action. Pure-Seed Testing advances in breeding drought-tolerant turfgrasses have seen varieties that require as much as 40% less water. Working with the Turfgrass Water Conservation Alliance (TWCA) provides third-party validation. Turfgrasses are rated using objective rather than subjective data. Cameras capture the actual percentage of green cover in test plots and track drought performance of varieties with extreme accuracy. Two fescue varieties in the PureLinks blend used at Marco Simone for the Ryder Cup are TWCA-qualified.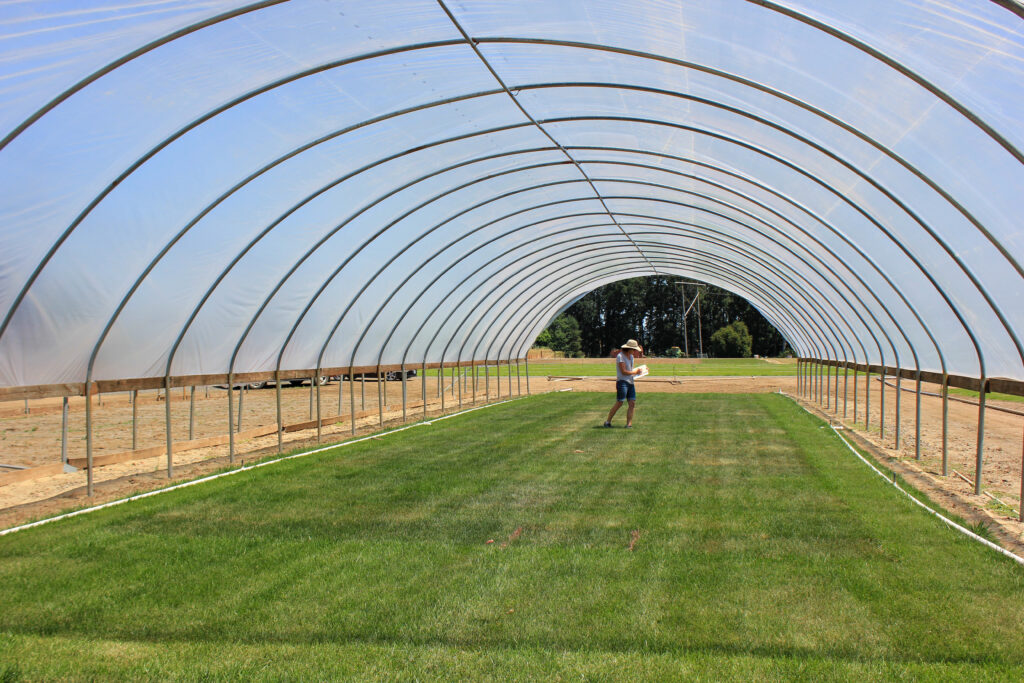 "If a golf course can reduce water usage by 20% or even 10%, think about the value of that. Water is priceless. Working toward managing grass with less water is valuable," said Fricker.
In addition to breeding more drought-tolerant varieties, Pure-Seed Testing also pioneers varieties offering exceptional salt tolerance, including Pure Dynasty Seeded Paspalum featured in Italy at Marco Simone, allowing the option for irrigation with effluent water if water quality issues arise.
Seeing the Results
Over the past 50 years of breeding and producing advanced turfgrasses, Pure Seed has always strived to show value to its customers by offering varieties that make a difference. The rewards of these efforts have come in the relationships that have developed over the years, the successes in moving the industry forward, and the positive impact the turfgrasses have made for projects worldwide. Providing the turfgrasses for the most illustrious competition in golf is certainly one of the highlights of the company's history.
"It's very rewarding and gratifying," said Fricker. "Especially as we're hearing how well the grasses are performing. That is the goal. We want to make a difference for the golfer, the superintendent, the owners, and all athletes wherever our grasses are used. To see that come to fruition in Rome for the Ryder Cup is something special."
Learn more about the turfgrass selection process for the Ryder Cup here.