Dubai Hills by European Golf Design featuring Pure Dynasty Seeded Paspalum
Pure Dynasty, from Pure Seed and Atlas Turf International, is the world's most advanced seeded seashore paspalum.
As the first seeded paspalum blend, Pure Dynasty features the best attributes the species has to offer. These include faster establishment, tighter density, better disease resistance, and improved spring green-up. With Platinum TE as one of the genetic parents, Pure Dynasty shares the benefits of vegetative paspalum. It offers salt tolerance when mature, quick recovery, dark green color, and an upright growth habit for excellent playability.
"Pure Dynasty takes the best attributes from its parents and combines into a more diversified product," said award-winning plant breeder Crystal Rose-Fricker of Pure Seed. "The advantages of the Pure Dynasty blend allow for broader application to varying climates and soil types."
Suited for a Variety of Applications
In addition to superior product features, Pure Dynasty offers convenience and simplified maintenance. The turfgrass is suited for golf courses wall-to-wall and meets the needs of most any sports field application. Maximum flexibility of mow heights and durability makes Pure Dynasty the perfect playing surface for tees, fairways, roughs, and greens. Sports field applications include football and baseball fields, cricket pitches, tennis courts and more.
Ease of Import
Previously, countries with import restrictions on vegetative paspalum could not take advantage of the benefits of products such as Platinum TE. The ease of importation offered by a seeded variety solved the problem. Pure Dynasty provides the solution for the highest quality turfgrass in these markets. Such was the case at the Jose Maria Olazabal-designed and Troon-managed Velaa Golf Academy in the Maldives where Pure Dynasty is planted wall-to-wall.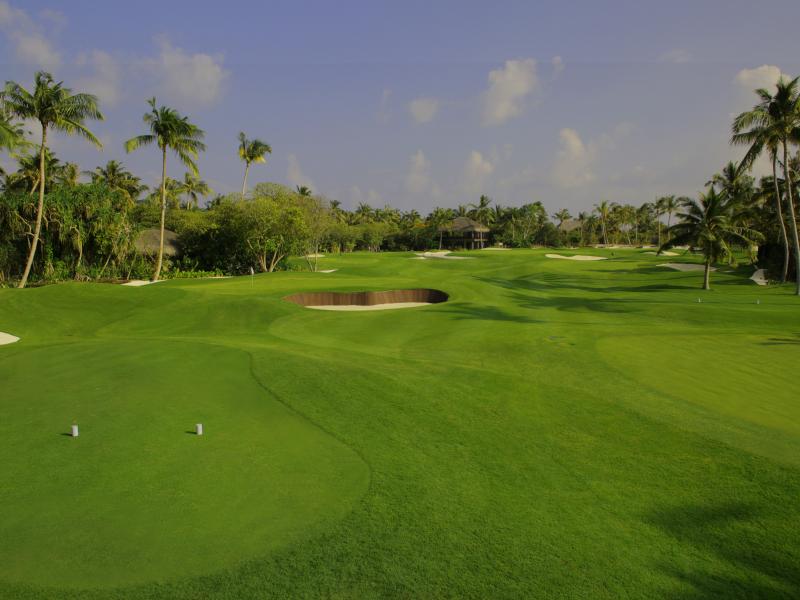 "As we faced import regulations on traditional stolons amongst other logistic challenges, Pure Dynasty, with its high salinity resistance as well as its proven drought and disease resistance, is the perfect fit for Velaa Golf Academy," said Anton Ortner, senior design associate at Olazabal Design. "On top of that, Pure Dynasty provides the course with a striking contrasting bright green color, and the medium-fine texture ensures great playing conditions from tee to green."
Bukit Pandawa Executive Golf Club in Bali by JMP Golf Design also features the seeded paspalum throughout the course. Project Manager and Golf Course Superintendent Don Ellsworth selected Pure Dynasty due to his positive experiences with paspalum and because of the ease of import and planting of seed. His expectations were met and exceeded.
"I fully recommend Pure Dynasty," Ellsworth said. "What I like most about this turf is the ease of planting, the awesome color, the texture, and the fact that I can use it for everything on the course."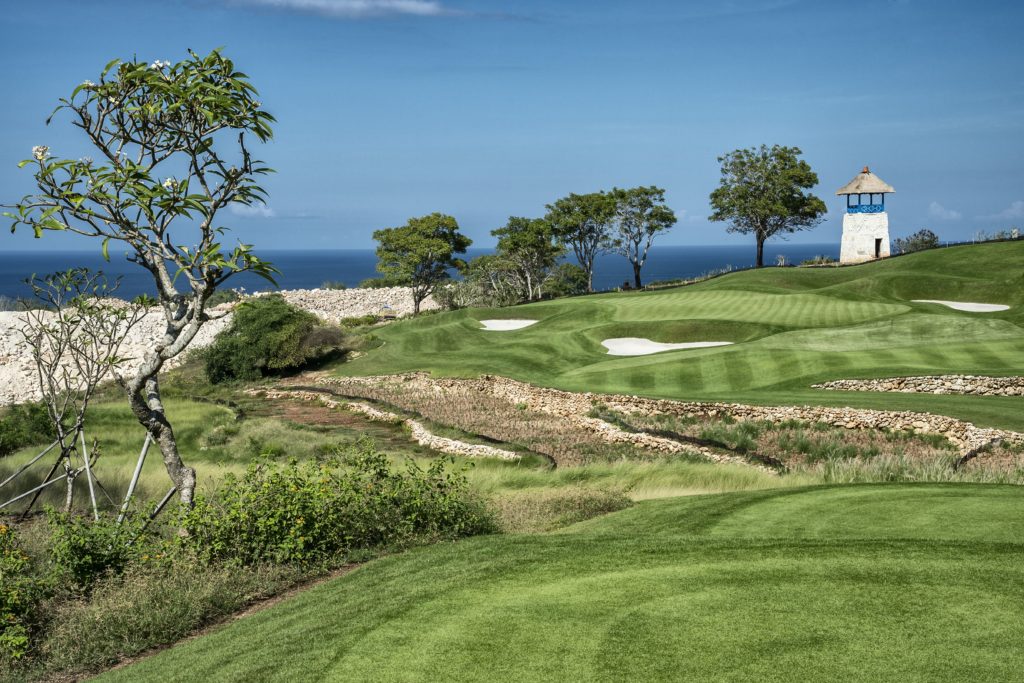 Selected Around the World
The Maldives and Indonesia were among the first countries to select Pure Dynasty, but the list has grown. Golf and sports field projects in over twenty countries on five continents have chosen Pure Dynasty for new construction, renovation, and interseeding projects.