From the Ryder Cup to the World Cup and Everything in Between
Throughout my turfgrass-themed career, I've spent time as a golf course superintendent, a golf course builder, and now a turfgrass provider. These experiences have taken me around the world, provided challenges of every kind, and taught me many valuable lessons. The most valuable is the golf course superintendent's equivalent to "measure twice, cut once." I like to say: minimize the fight by selecting right.
The right turfgrass, that is.
So, how do you know which turfgrass is RIGHT? That's the tricky part, but definitely worth the effort of measuring twice – or even five times. I jump to five because at least five factors need to be considered to get to the right turfgrass.
Climate is the first factor that most people think of when selecting turfgrass. Average and extreme temperatures, annual rainfall, cloud coverage, and humidity are all climatic conditions that affect the performance of a turfgrass.
Site conditions also need to be considered. What is the quality of the soil and water? How much shade is involved? Are ocean spray or storm surges an issue? Any one of these factors can decimate some turfgrass varieties.
Usage is important as well. How many rounds of play will the course see annually? What is the level of golf cart traffic? What is the facility type: resort, private, municipal, or some combination? Are professional tournaments likely to be scheduled?
The architect's design goals should be considered for both new construction and renovations. Does the course cater to the lower handicap golfer or more to a broad range of handicaps? Is the design meant to play firm and fast or at a more leisurely pace? Turf varieties can play a significant role in the playability of a golf course.
And last on this list, but absolutely not least, are maintenance capabilities and budget. Will the budget allow for frequent cultural practices? Is chemical usage limited (either due to budget or local restrictions – a real issue in some countries)? What is the quality of the equipment? What is the size and experience level of the maintenance staff?
That's a lot of measuring. Is it really worth such an in-depth analysis to select turfgrass? It is when you consider the benefits. When the turfgrass choice aligns as closely as possible with these five factors, optimal growth is achieved with the least amount of effort and inputs, and the course is much more likely to satisfy stakeholders.
No One Size Fits All Turfgrass
Anyone who says that a turfgrass can be a "one size fits all" option is guilty of oversimplification. With this many factors affecting turfgrass performance and the almost unlimited number of different scenarios, a super grass that meets every condition just doesn't exist. And as a note of caution, with new turfgrass varieties hitting the market annually, beware of misleading advertising claims. Sometimes a new turf variety will not show its weaknesses for several years, and those weaknesses rarely appear in the research at the development stage.
Thankfully, there is a tremendous selection of turfgrasses available – many tried and true varieties as well as groundbreaking new ones. And don't just take the word of your turfgrass provider (although some of us are pretty reliable). Visit golf courses with similar conditions and ask the hard questions. Attend turfgrass field days to learn about new varieties. And perhaps most worthwhile, trial different options on your site.
When the decision is made, always purchase from a reputable source. Buying certified turfgrass is an insurance policy for quality. In the U.S., look for a state-certified source. Outside of the U.S., insist on product certified by the International Turfgrass Genetic Assurance Program (ITGAP).
Working with turfgrass installations of every kind, including new construction, renovations, and turf conversions in locations across the U.S. and around the world, I've seen where selecting the right turfgrass has paid off and where not selecting the right turfgrass has caused long-term challenges.
Turfgrass Selection Lessons from Other Regions Of The World
Southeast Asia is, arguably, the most challenging area in the world to grow consistently good turf year-round. There are rainy periods that last for months with unprecedented disease and insect pressure, followed by periods of no rain with extreme heat. During the region's golf boom in the late 80s through the 90s, most golf construction projects used local turf varieties or older varieties of bermuda grass imported from the United States. The selected turf varieties had a difficult time performing in the challenging conditions. In the early 2000s, we began introducing improved paspalum, zoysia, and bermuda products. These new varieties, primarily developed at southeastern U.S. universities, offered improved performance in critical areas and significantly reduced inputs required, such as fertilizers and pesticides.
In recent years, I was fortunate enough to be the turfgrass provider for Marco Simone Golf & Country Club in Rome, Italy, where the 44th edition of the Ryder Cup will be held in less than a year's time. Rome has a temperate climate with cool winters and hot summers (similar somewhat to the transition zone in the U.S.), allowing Marco Simone to select from both warm and cool season grasses. The course architect, as well as the agronomist from the European Tour, wanted fescue roughs for added challenge and aesthetics. Bentgrass greens were selected for speed. For tees and fairways, warm season turfgrass was chosen to deliver the highest quality tournament conditions and hold up under inconsistent water quality. A collaborative effort between our seed partners Pure Seed and Tee-2-Green, along with the European Tour, came up with a turf pallet that includes Pure Distinction Bentgrass greens, Pure Dynasty® Seeded Paspalum tees and fairways, and a blend of Pure Seed fescues in the rough. The golf course will be challenging, with the turf playing a pivotal role in player strategy during the matches.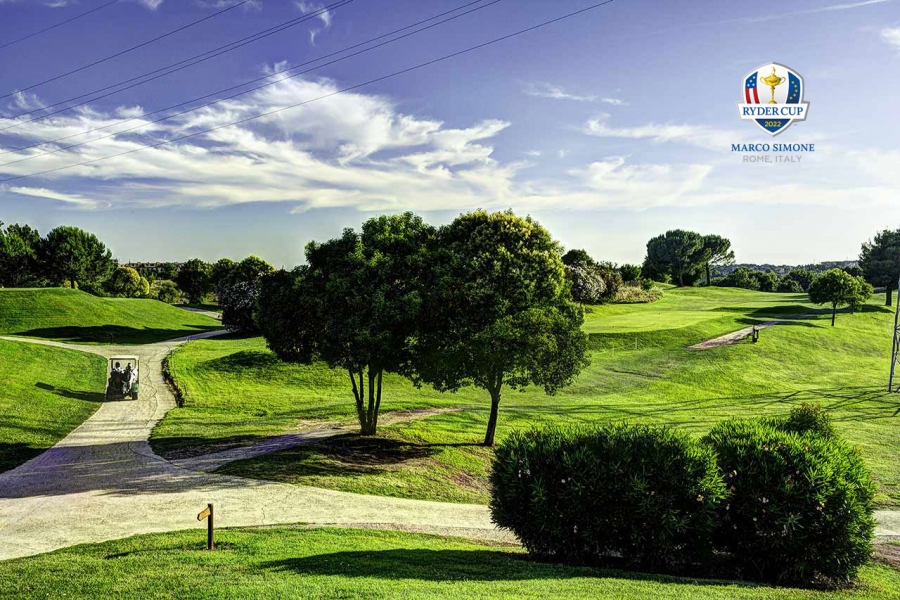 One of golf's most active growth areas is currently the Middle East. More than 20 new golf courses are projected for construction over the next ten years in Saudi Arabia alone. With a national sustainability initiative in place, selecting the right turfgrass for these new developments carries more weight than ever. The turfgrass challenges in Saudi Arabia and the Gulf Region overall often center around heat and water scarcity and quality. A new turf farm was established near Riyadh by Atlas Turf Arabia to provide a local source for the most sustainable turfgrass selections for the region.
The Desert Southwest in the U.S. has a similar climate to the Middle East, with the most comparable conditions in states such as Arizona, New Mexico, Nevada, and California. The pressure to use less water or switch to TSE irrigation in these states continues to make sustainable turfgrass choices not just important but crucial.
Turfgrass Selection for the World Cup
Veering from the golf focus for a moment, a career highlight of mine is the front-row seat I've had for the turfgrass selection of the 2022 FIFA World Cup in Qatar. With considerations similar to those used by golf courses, selecting the right turfgrass is just as essential for sports fields. Now imagine that sports field will be the site of the final match of the World Cup. The stakes are high.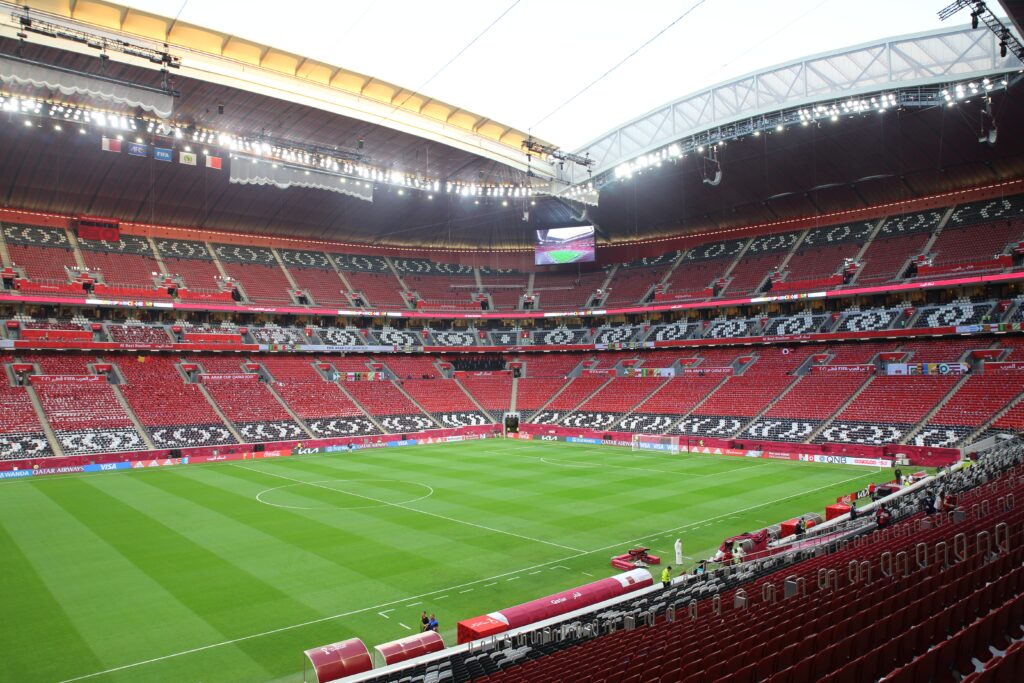 Climate, site conditions, stadium design, usage, and maintenance were all considered carefully. Among the areas of most concern were the turfgrass strength, for obvious reasons, and shade tolerance due to the areas of the field blocked from the sun by the stadium design. Selection criteria also focused on salt tolerance due to water quality, heat tolerance, and drought tolerance.
In Qatar, the selection process included almost four years of testing turfgrass varieties from the three major warm season species: bermuda, paspalum, and zoysia. Based on the results of these extensive trials, the Supreme Committee for Delivery and Legacy selected Platinum TE™ Paspalum as the playing surface for all eight stadiums and 81 training fields. Platinum TE outperformed the other turfgrasses in many areas, including durability with stronger tensile strength, shade tolerance, recovery and rapid regrowth from injury, and faster establishment and grow-in. With the whole world as the audience, turf performance at the World Cup certainly justified a rigorous and thorough turf selection process.
More and More About the Water
We are living in an ever-changing world – one where more and more golf courses are facing water quality and quantity challenges. In regions where courses are mandated to use TSE water, viable and effective turfgrass options are available through advanced new varieties that offer not only extreme salt and drought tolerance but also check many other boxes for overall performance. New technically advanced seed varieties can be used to convert a course more easily to a turf species that best fits a changing situation.
Even with advances in technology, the obstacles and challenges a turf manager faces will never go away entirely. And whether the stakes are a Ryder Cup, World Cup, or just individually high standards, the battle for excellently maintained turfgrass can appear to be an endless uphill battle. But when the opportunity arises to select a new turfgrass, minimizing the fight – against elements, obstacles, and other turf challenges – it is much more achievable with the RIGHT turfgrass.
John Holmes is president of Atlas Turf International and co-founder of Atlas Turf Arabia. Before becoming a turfgrass provider, he was a golf course superintendent and a golf course builder.
This article first appeared in the December 2022 issue of Golf Course Industry.