Golf courses throughout the Philippines look to Atlas Turf International for quality turfgrasses. Providing licensed and certified turf to more than ten facilities across the country, Atlas Turf is intimately familiar with the region and takes pride in offering the right turfgrasses for each project.
With the oldest golf course in the Philippines opening over 100 years ago, the country possesses a deep golf history. And quality matches longevity. The world's leading golf course designers have work showcased here.
Atlas Turf President John Holmes lived and worked in the Philippines during the '90s and considers the country and its golf courses to be among the most beautiful. With the different terrains and varying land and water features, the selection of golf courses is vast. Elevation changes offer both beauty and challenge. Holes along rivers and the ocean create natural water hazards, and tropical rainforests lend a lush and verdant appeal. Along with the delights of the country come distinct challenges. Long periods of cloudy, rainy weather can put stress on certain turf species.
"Extreme cloud coverage, disease and insect pressures, and periods of significant rainfall make the Philippines one of the hardest places in the world to successfully maintain turfgrass," said Holmes. "This makes appropriate turf selection more important than ever."
Kirk Buchanan, sales consultant for Atlas Turf specializing in the Asia market, spends a great deal of time in the region and has seen a trend in recent renovations.
"Courses are upgrading to more advanced turfgrasses and elevating the quality of their playing surfaces," said Buchanan. "My process when working with each of these courses is to clearly understand the goals of the project individually, taking into consideration location, budget, and the specific demands the job presents. Having a variety of the most innovative and top quality turfgrass products allows us to select the right turfgrass instead of assuming one product is the correct choice every time."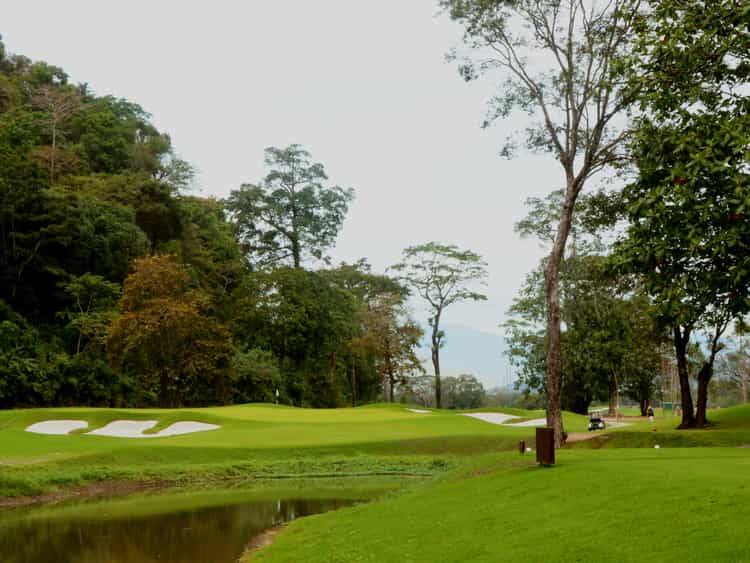 When the new Subic International Golf Club (formerly Subic Bay Golf Club) embarked on their renovation, Atlas Turf was the trusted partner in turf selection. For the course's new greens, Subic International chose the seeded paspalum Pure Dynasty®. With brackish irrigation water, few varieties could offer the performance and viability of Pure Dynasty. Quick germination and grow-in are included among its advantages as well as its deep green color.
"The greens offer a generous landing area," said Nicer Landas, president of Golforce Inc. who served as contractor for the renovation. "A good number of holes offer a great risk and reward shot selection for both low and high handicap players. The seeded greens are performing well, are aesthetically pleasing, and provide a good putting surface."
With the area attracting more and more tourists, Subic International will quickly become a new favorite. The clubhouse provides 180-degree views of nine of the golf holes and three lakes. Subic International opened in March.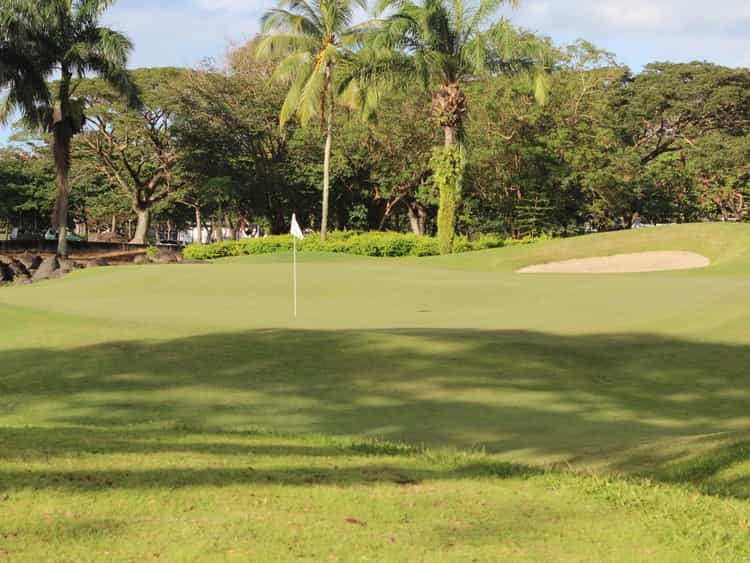 Mount Malarayat Golf and Country Club in Lipa City Batangas recently converted their greens to Sunday Ultra-Dwarf Bermudagrass™. As the club prepared to celebrate its 20th anniversary, a goal for the renovation by Bob Moore of JMP Golf Design was superior putting greens without excessive costs or maintenance. Sunday offered the ideal solution. As a top performer in the National Turfgrass Evaluation Program (NTEP) trials, Sunday is less expensive to maintain, produces less thatch, and requires fewer cultural practices.
"We wanted to have an ultra dwarf bermuda that can be managed like a dwarf," said golf course superintendent Mike Carr. "The grow-in performance was also great. No problems and the grow-in time was extremely fast."
Mount Malarayat's phased renovation is expected the be completed near the end of 2019.
Another recent renovation is Puerto Azul Golf and Country Club located in Ternate City in Cavite Province. Designed by Erwin Austria, the renovation incorporates Platinum TE™ Paspalum wall-to-wall.
"Platinum TE was chosen based on the actual inspection," said Christian Santiago of BGC Philbuilder Inc. "This course is in a spectacular location, truly seaside with a Pebble Beach kind of scene for at least five holes. Given the location, a sea-spray resilient cultivar was strongly recommended."
Puerto Azul's proximity to the ocean required a turfgrass with superior salt tolerance. Platinum TE not only meets this requirement but also offers the rare versatility to enable planting from tee to green. Tolerance of a variety of mowing heights, density, quick recovery, and the excellent putting surfaces achieved with Platinum TE allowed Puerto Azul the convenience and cost savings of one turfgrass throughout.
Tim Walker, Class A golf course superintendent and vice president of Pacific Links Golf Development has managed the maintenance and renovation of multiple golf courses during his career spanning more than twenty years in the Philippines.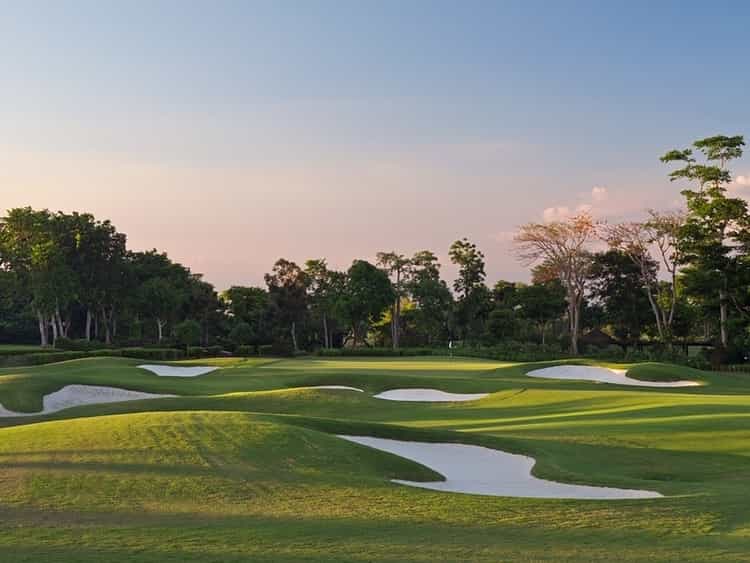 Alabang Country Club in Muntinlupa City, Sta. Elena Golf and Country Club in Santa Rosa City, and Wack Wack Golf and Country Club in Mandaluyong City are among the projects Walker has worked with, and all three utilized turfgrasses from Atlas Turf. In making a turfgrass selection, Walker bases the decision on the climate and growing conditions, but also on the reliability of the turfgrass source.
"Atlas Turf is one of the most professional and reputable companies I have worked with," said Walker. "They have a great understanding of the unique region we work in, and the products that I get from Atlas have always met our expectations."
Aware of the risks such as contamination associated with inferior or pirated turfgrasses, Walker places significant value on turfgrass from regulated sources.
"The selection of certified and licensed grass has been a requirement from our clients to avoid any potential problems," said Walker. "I would use nothing else because it assures us that our turf is of the highest quality.
"Our company has strived to improve the golf courses that we have worked with over the years, providing them with improved and proven turfgrass varieties," Walker went on to say. "Since the first time we installed TifEagle back in 2000, we have had great performance with our grass coming from Atlas Turf."
Walker has seen firsthand the benefits of investing in quality renovations with high performing turfgrasses.
"All of the courses and companies I have worked with are still operating at very high levels," said Walker. "Many courses have seen an increase in the value of share prices, and the golfers are extremely happy."
Additional golf courses in the Philippines utilize licensed and certified turfgrasses from Atlas Turf International. The Country Club in Santa Rosa conducted an 18-hole renovation and hosted the 2018 Solaire Philippine Open. Anvaya Cove Golf and Sports Club, a new golf course designed by Golfplan, features MiniVerde™ Ultradwarf Bermudagrass on their greens. Manila Golf and Country Club recently completed their 18-hole renovation designed by Bob Moore featuring Diamond Zoysia, and Queens Island Golf and Village in Cebu thrives in its coastal location with Platinum TE Paspalum.